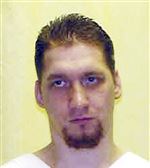 Phillips
ASSOCIATED PRESS Enlarge
COLUMBUS — In an unprecedented move, Gov. John Kasich has postponed the execution of Akron child-killer Ronald Phillips scheduled for Thursday to determine if his organs can be harvested.
It has been rescheduled for July 2, 2014.
In a statement released this afternoon, Kasich halted Phillips' execution "so that medical experts can assess whether or not Phillips' non-vital organs or tissues can be donated to his mother or possibly others."
"Ronald Phillips committed a heinous crime for which he will face the death penalty. I realize this is a bit of uncharted territory for Ohio, but if another life can be saved by his willingness to donate his organs and tissues then we should allow for that to happen," Kasich said.
Phillips, 40, was sentenced to die for the 1993 beating, rape and murder of three-year-old Sheila Marie Evans, the daughter of his girlfriend at the time.
The governor said if Phillips "is found to be a viable donor to his mother or possibly others awaiting transplants of non-vital organs, such as kidneys, the procedures would be performed and then he would be returned to Death Row to await his new execution date."

READ FULL STORY online at Columbus Dispatch.
Guidelines: Please keep your comments smart and civil. Don't attack other readers personally, and keep your language decent. Comments that violate these standards, or our privacy statement or visitor's agreement, are subject to being removed and commenters are subject to being banned. To post comments, you must be a registered user on toledoblade.com. To find out more, please visit the FAQ.