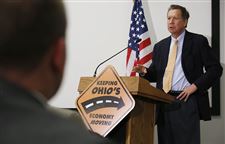 Gov. John Kasich said the upcoming construction projects in northwest Ohio make for exciting times.
THE BLADE/LORI KING
Enlarge | Buy This Image
A three-year, $260 million widening project on I-75 between Perrysburg and Findlay is a big-money highlight of the Ohio Department of Transportation's statewide construction program this year, but a much smaller reconstruction job in downtown Toledo is much more likely to give area drivers orange-barrel fatigue.
Ohio Gov. John Kasich returned on Wednesday to the central Toledo business where he announced plans 16 months ago to bankroll highway improvements throughout northern Ohio with Ohio Turnpike toll financing to kick off a 2014 construction season heavily dependent on those funds.
RELATED: Officials investigate cracks in I-475's roads
PHOTO GALLERY: Click here to view.
"We're starting to be on the move in this state. It's pretty exciting," the governor said during an ODOT news conference at Modern Builders' Supply, Phillips Avenue near I-75, to roll out a statewide program of 936 construction projects with combined contracts estimated at $2.5 billion — the most in ODOT history for a single year.
It includes the June start of I-75 widening in Wood and northern Hancock counties, for which one contract has already been awarded — $65.5 million to Miller Brothers Construction for work between State Rt. 18 and Hancock County Road 99 — and three others are to be in place by next month.
Except for modifications to the I-475 junction in Perrysburg, however, that work is unlikely to cause significant traffic delays because two lanes will be maintained in each direction during peak travel times. That matches existing capacity, albeit with a reduced speed limit.
ODOT also plans to maintain two lanes each way when it rebuilds I-75 between Dorr Street and Central Avenue starting in June, but that's a stretch that normally has four lanes between Dorr and the central Toledo I-475 junction.
"Obviously, there's a lot more traffic downtown," Theresa Pollick, the department's district spokesman in Bowling Green, said after the governor's news conference. "It's going to have the greatest impact to traffic."
The $28 million downtown reconstruction, scheduled for completion in July, 2016, will also require long-term ramp closings during its second phase next year.
Other major projects on this year's ODOT plan for the Toledo area include a $14 million rework of the I-475/​U.S. 23 split in Sylvania Township to eliminate weaving traffic on the southbound side between the split and Central Avenue; $17 million to overhaul three pairs of bridges near the Airport Highway interchange in Springfield Township, and the $18 million McCord Road Underpass in Holland.
Another big project that has already started is ODOT's $28.7 million Anthony Wayne Bridge overhaul. The structure, also known as the High Level Bridge across the Maumee River just south of downtown Toledo, closed to all traffic last month and won't reopen until late 2015.
"This is about increased safety and jobs, about reduced congestion and jobs, about increased growth, commerce, development — and jobs," ODOT Director Jerry Wray said during the news conference.
Without Mr. Kasich's "bold and courageous" initiative to borrow $1.5 billion backed by the Ohio Turnpike's future toll collections, Mr. Wray said, most projects wouldn't be happening until many years in the future.
Larry Leggett, chairman of the Modern Builders' Supply board, said the construction kickoff is "a good sign that the transportation system for northwest Ohio and Toledo is on the rise," and he remarked that safe, convenient roads are important both for his company's deliveries and its customers' access to its stores.
Modern Builders' Supply was where Mr. Kasich in December, 2012, announced his administration's decision to borrow against the toll road rather than lease it to a private operator as a way to "leverage" its value to pay for construction projects.
Before legislative action last year, turnpike revenues were restricted to being used only for turnpike projects, but now may be spent on other roads deemed to have a "nexus" to the toll road.
Mr. Kasich has said the turnpike bonds should bring in another $1.5 billion in other funding, supporting a total construction program worth $3 billion.
"We're going to move projects, some of which were 20 years out, into this short window," the governor said. "I can't wait to see all these orange barrels."
Next year, ODOT plans to start rebuilding I-75 between I-475 and I-280, including past Mr. Leggett's business, also using turnpike financing.
"It's something else we're going to have to deal with, but the orange barrels will be forgotten over time," Mr. Leggett said.
The use of turnpike funding, in turn, allows ODOT's traditional fuel-tax revenue stream to be devoted to other road improvements — principally roads farther from the turnpike, but also including the state's contribution to work like the McCord project, which will replace a busy railroad crossing with a railroad bridge over the road.
"I'm just thrilled with what's happening with infrastructure in Ohio, and we didn't have to raise anybody's taxes," Mr. Kasich said.
The campaign for Cuyahoga County Executive Ed FitzGerald, however, issued a statement challenging Mr. Kasich's record on boosting construction-industry employment and noting that the governor's plan to cover part of a proposed 8 percent income-tax cut with a hike in the commercial-activity tax would hit the construction industry especially hard.
During a meeting last week with The Blade's editorial board, Mr. FitzGerald, the leading Democratic party challenger to Mr. Kasich in this year's gubernatorial election, voiced continuing reservations about the turnpike financing arrangement too.
"When the governor and Republican legislators are in other parts of the state, they brag about how they're using turnpike revenues to do road projects there," he said. "They don't say that up here in northern Ohio, we're paying twice to subsidize infrastructure. We pay the gas tax and higher tolls."
Contact David Patch at: dpatch@theblade.com or 419-724-6094.
Guidelines: Please keep your comments smart and civil. Don't attack other readers personally, and keep your language decent. Comments that violate these standards, or our privacy statement or visitor's agreement, are subject to being removed and commenters are subject to being banned. To post comments, you must be a registered user on toledoblade.com. To find out more, please visit the FAQ.