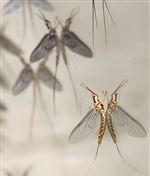 Experts say mayflies may be late this year thanks to the long winter, or there may be far fewer of them.
THE BLADE
Enlarge | Buy This Image
Every year, swarms of mayflies emerge from the waters of Lake Erie and fly into waterfront cities. They settle on doors, cover building walls, and pile up on streets. But it'‍s already mid-June, and the critters are, for the most part, absent.
"We haven't seen them in full force like we have in years past," said Blanca Stransky, the superintendent of Perry's Victory and International Peace Memorial, which hosts the annual Return of the Mayfly festival. Last year, officials were turning off the streetlamps in Port Clinton by mid-June to keep the insects from clustering around the light, she added.
At the Rush Inn Bar & Grille in Avon, Ohio, customers usually stay indoors to keep the bugs from landing in their food in the evening, manager Christen Holden said.
"We haven't had any issues at all this year," she said. "People are sitting outside on the patio with their dinner."
The mature insects usually start appearing in North Toledo in late May or early June and then spread farther east toward Cleveland, said Ken Krieger, the director of the Heidelberg University National Center for Water Quality Research.
The bugs spend the majority of their lives underwater. After nearly two years, they shed their exoskeletons and fly to shore. Then, in a day or two, they mate, lay eggs, and die.
The mayflies may be late this year, or there could be far fewer of them than in recent years.
The population goes through cyclical shifts, according to Don W. Schloesser, a researcher at the Great Lakes Science Center in Ann Arbor. In 2012, there were about 150 flies per square meter. The following year, the numbers were half for unknown reasons.
Ohio'‍s hard winter may have affected this year's population, as the flies' metabolism shuts off in the cold months.
"If they go into the fall and their health condition is not very good, making it to the following spring might be a challenge," Mr. Schloesser said.
Cold water temperatures or strong southwest winds during the prolonged spring may have delayed the emergence of those that survived.
Other factors include decaying algae that depletes the oxygen in the depths of the lake, causing the insects to suffocate, said Justin Chaffin, a research coordinator at the Ohio State University Stone Laboratory.
"If you don't see them by the first week of July, you should kind of assume that they're not coming this year," Mr. Schloesser said.
Contact Maya Averbuch at: maverbuch@theblade.com or 419-724-6522.
Guidelines: Please keep your comments smart and civil. Don't attack other readers personally, and keep your language decent. Comments that violate these standards, or our privacy statement or visitor's agreement, are subject to being removed and commenters are subject to being banned. To post comments, you must be a registered user on toledoblade.com. To find out more, please visit the FAQ.