Ohio Gov. John Kasich is proud of the $2 billion stashed away in the state's rainy day fund, and he has rebuffed calls from local governments to share those funds.
Instead, he has called on local governments and school districts to use their own surpluses and reserve balances to fill the gaps.
"If the politicians in Washington can eliminate revenue sharing, what is this whole thing every time I turn around about the Local Government Fund?" he said in February. "... I want you to look at the surpluses these small communities who complain have."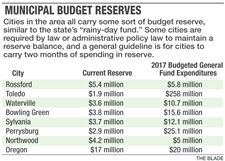 THE BLADE
Enlarge | Buy This Image
Most northwest Ohio cities are carrying reserve funds from year to year, but they say they have various reasons for keeping that money set aside.
The smallest reserve is maintained by Toledo, with $1.9 million in reserve for its $258 million budgeted 2017 general fund expenditures, well below the Government's Finance Officers Association guidelines.
"The [Government's Finance Officers Association] recommends that, at a minimum, we have two months of general fund operating expenses," Toledo Finance Director George Sarantou said. "In Toledo, that would be $42 million. That would be a very unrealistic number at this point."
The city is planning to double the reserve balance with an additional $1.9 million deposit following its 2016 audit, with a long-term goal of getting one month of expenses set aside. Mr. Sarantou said that money is not considered a surplus, because the 2017 budget still relies on $7 million being transferred to the general fund from the capital improvement fund.
"When the governor says we should dip into our reserves, we don't have any reserves because our local government funds have been so severely cut," he said, citing a $16 million — or roughly 66 percent decrease in state funding from $24 million to $8 million.
"The state has $2 billion, with a B, in reserves in their budget stabilization fund," Mr. Sarantou said. "That's fine and dandy, but how much do we have to pay?"
On the other extreme, the city of Oregon has about $17 million in reserve, compared to a $20 million general fund budget. Officials intend to spend down between $2 million to $3 million in infrastructure spending in the next two years, City Administrator Michael Beazley said. Oregon has a policy to carry six months of general fund expenditures in reserve.
Oregon could see its revenues decrease by 15 percent in a year, Mr. Beazley said, because of how reliant the city is on a few large industrial firms and their projects.
He said the responsible thing for the city to do is stock away funds in peak revenue years to survive through valley years, although that is not the policy every government needs to take. Cities with more stable revenue sources, or the state, do not typically experience the fluctuation that Oregon does, Mr. Beazley said.
"The state tends to be less cyclical," he said. The state budget stabilization fund is capped at 8.5 percent of the preceding fiscal year general fund revenue, and currently sits at 6 percent.
Ohio Gov. John Kasich yells to reporters as he arrives at the White House in Washington Feb. 24.
ASSOCIATED PRESS Enlarge
Rossford is required by city law to have enough in reserve to pay for six months of its budgeted general fund expenses, although it started the year with 11 months in reserve at $5.4 million.
"It is tied to making the city fiscally stable," city finance Director Karen Freeman said.
She said the city was not aiming for such a large surplus, but 2016 ended with the city having more in tax revenue and less in expenditures than was expected.
Ms. Freeman expects that reserve fund will decline throughout the year, although it should not get near that six-month minimum.
The city of Perrysburg has just shy of $2.9 million in reserve, compared to $25.1 million budgeted for 2017 general fund expenditures.
"I was taught a long time ago that if you've got too much money, you're taxing your people too much," Perrysburg finance director Dave Creps said. "We're not here to save money, but we're here to save enough to have in our pockets so if something happens, we're prepared for that."
Perrysburg's reserve fund is available for any use approved by council. The 2017 budget includes an additional $500,000 payment into that fund.
While Perrysburg stashed away funds in reserve, it — like other area governments — saw a decline in revenue from the state.
The local government fund, which distributes money directly from the state to the cities with no strings attached, has been cut by 50 percent since 2010. The estate tax, eliminated in 2013, and the decline in replacement revenue from the tangible personal property tax repeal in 2005, along with local government fund cuts, add up to a $1.25 million cut in state revenue.
The cuts have not hurt Perrysburg in a serious way, though Mr. Creps worries about the general trend.
"From Perrysburg's perspective, I would stay hopeful that the net effect is not substantial enough that we have to change how we operate anything," he said.
The state plans to distribute 85 percent of its general fund revenue to local governments, school districts, public colleges, and other public entities in its next budget, according to the Ohio Office of Budget and Management. That includes Medicaid spending, which is the single largest share of state general fund spending at 47.2 percent of the fund.
The second largest portion of general fund spending is primary and secondary education. School districts also carry reserve balances year-to-year to absorb any changes that could occur.
Toledo Public Schools currently has about $6.6 million in reserves, which is approximately one payroll for the district. Its cash balance, which will be used to pay the bills throughout the year, sits at about $55 million, district treasurer Ryan Stechschulte said.
He wants to see that reserve balance grow because the district, which receives about 75 percent of its funding directly from the state, is vulnerable to the whims of the state General Assembly.
"We're very conscientious of the budget process every biennium," Mr. Stechschulte said. "That's why we need to have a reserve, because our funding could change dramatically every two years."
Perrysburg Schools, on the other extreme, receives about 68 percent of its funding from local taxpayers. The district, with an annual budget less than one-seventh of TPS, has a $7.2 million reserve balance.
That covers 60 school days for the district, treasurer Pam Harrington said, putting the district in good fiscal shape.
Lucas County has about $26 million in reserve, 16 percent of the county's $158 million general fund budget. County Commissioner Pete Gerken said the county had planned on using $6.25 million of its own reserves to meet the needs of this year's operating budget.
The plan changed, as the Kasich administration has proposed gradually weaning counties and public transit authorities with piggyback sales taxes off their share of the revenue the next two years. He has proposed a permanent replacement — a fee on Medicaid managed-care services — that would take care of the state's problem, but there is no permanent fix proposed for locals.
Lucas County has asked agency heads to find 2 percent in budget cuts to help close the gap.
Contact Zack Lemon at: zlemon@theblade.com, 419-724-6282, or on Twitter @zack_lemon.
Guidelines: Please keep your comments smart and civil. Don't attack other readers personally, and keep your language decent. Comments that violate these standards, or our privacy statement or visitor's agreement, are subject to being removed and commenters are subject to being banned. To post comments, you must be a registered user on toledoblade.com. To find out more, please visit the FAQ.