COLUMBUS — House Republicans have abandoned any tax cut in the next two-year budget, but plan to reduce the number of income tax brackets from nine to seven.
The House version of the budget, expected to be sent to the Senate next week, would increase funding for school districts by $40 million a year. Some districts will still see cuts in their state aid depending on enrollment losses.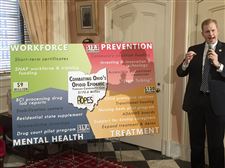 Rep. Ryan Smith (R., Gallipolis), chairman of the House Finance Committee, speaks about key points of the House's proposal of the budget, which adds $40 million to school spending.
THE BLADE/JIM PROVANCE
Enlarge | Buy This Image
"I think for the most part you'll see most schools make a small improvement compared to what we have in the governor's plan, but frankly $40 million over 612 schools doesn't spread very far," Rep. Ryan Smith (R., Gallipolis), chairman of the House Finance Committee, said today.
"It's nothing that's going to blow people away," he said.
Per-pupil aid would climb from $6,000 a year to $6,020. No district could see an increase in funding of more than 5.5 percent.
In a joint statement, the Ohio School Boards Association, Ohio Association of School Business Officials, and the Buckeye Association of School Administrators said they believe the House did the best it could with a budget that keeps shrinking.
"This budget continues to shortchange students in districts that lack the capacity to address the challenges posed by poverty," they said. "Year after year, data clearly show that students' educational attainment in districts with high concentrations of poverty perform starkly below their counterparts in more affluent districts."
Republicans say the changes, including a 1.5 percent cut for many state agencies, do not add up to the $800 million in reductions that Gov. John Kasich, House Speaker Cliff Rosenberger (R., Clarksville), and Senate President Larry Obhof (R., Medina) have agreed to because of sluggish tax collections.
"These budget adjustments, I believe, put Ohio in a very strong position in the case of recession, in the case of anything that should happen in the future," Mr. Rosenberger said.
The plan invests more over the biennium in the fight against opiate painkiller and heroin addiction, providing for more local treatment efforts, residential and transitional housing beds, and child protective services.
"It's a $170 million investment over the biennium — I think a step in the right direction," Mr. Smith said. "I realize that this epidemic is so large. I don't know what the right number is, but in a challenging budget we certainly made a huge commitment to this area."
It gives public colleges and universities a choice between freezing tuition rates or implementing a tuition hike and fee schedule that would be locked in for the next four years for incoming freshmen. The next freshman class could see a different tuition rate.
Community colleges would be permitted to raise tuition by $10 per credit hour.
The plan abandons Mr. Kasich's tax reform proposal, in which he proposed increases in sales, tobacco, alcohol, and shale oil and natural gas taxes to help pay for a 17 percent cut in the income tax.
Mr. Kasich had proposed collapsing Ohio's nine income tax brackets from nine to five. The House target is seven. Mr. Smith said the changes target the lower end of the brackets with the lowest taxable threshold starting at $10,000.
"It does not raise anybody's taxes," he said.
The House has dropped the controversial plan to have the state collect and distribute local taxes on business income for a fee to the government.
"I have said for months that tax cuts should not be a priority when our schools are not adequately funded and our state is facing the worst public health crisis in decades," said state Sen. Joe Schiavoni (D., Boardman), a 2018 candidate for governor. "It appears the House has listened to the cries of their constituents and their communities."
A final budget is to go before Mr. Kasich's desk by the end of June.
"Balancing our budget and restraining spending are essential to fostering a jobs-friendly climate and continuing Ohio's economic recovery," Kasich spokesman Emmalee Kalmbach said. "Speaker Rosenberger and his colleagues in the House understand that, and it's reflected in the ideas they offered today."
The plan also proposes changes in property tax breaks for agricultural land, something that could represent another loss of revenue for local governments. The changes would be phased in over six years.
Contact Jim Provance at: jprovance@theblade.com or 614-221-0496.
Guidelines: Please keep your comments smart and civil. Don't attack other readers personally, and keep your language decent. Comments that violate these standards, or our privacy statement or visitor's agreement, are subject to being removed and commenters are subject to being banned. To post comments, you must be a registered user on toledoblade.com. To find out more, please visit the FAQ.