COLUMBUS — As summer approaches and bright stars begin to light up the clear night sky, Ohioans can take comfort in knowing their home state is tied to whatever the future of space travel brings.
Few states have contributed as much to space knowledge and innovation.
Obvious examples begin with the general concept of flight successfully demonstrated in Kitty Hawk, N.C., in 1903 by Dayton brothers Orville and Wilbur Wright, who went from building bicycles to building aircraft.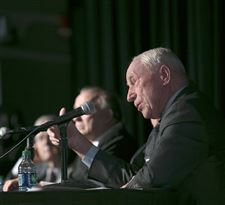 Apollo 15 astronaut Al Worden speaks at an Ohio State University panel last week on the future of the U.S. space program.
COURTESY OF OHIO STATE UNIVERSITY Enlarge
Six decades later, two monumental events also involved Ohioans: John Glenn, the first American to orbit Earth, and Neil Armstrong, the first man to step foot on the moon.
The latter two feats helped define pop culture images of the turbulent 1960s, when America was caught up in the space race with its Cold War rival, the Soviet Union.
"We're talking about a very, very unique time in the history of the world," Apollo 15 astronaut Al Worden, 85, observed at an Ohio State University panel last week with three other Apollo astronauts.
Now, with NASA eyeing manned missions to Mars and beyond by the mid-2030s, enthusiasm for space travel is on the upswing again.
More than 18,300 people applied for 14 openings in NASA's latest call for astronaut applications. That's more than twice the space agency's previous record of 8,000 submissions set in 1978. The figure also is nearly three times higher than what NASA received when it last took astronaut applications in 2012.
Armstrong chair
Many people don't realize aerospace manufacturing and research is Ohio's No. 2 industry behind agriculture, said John Horack, a senior International Astronautical Federation adviser and member of its governing board who joined the OSU faculty last August.
OSU entered a new era of commitment to the space industry last week by creating an endowed academic chair called the Neil Armstrong Chair in Aerospace Policy in the university's College of Engineering and John Glenn College of Public Affairs.
Mr. Horack was installed as the first Armstrong chair during a program attended by dozens of people, many of them rocket scientists and engineers from across the world.
In his comments to attendees, U.S. Sen. Rob Portman (R., Ohio), a friend of Mr. Armstrong's, said Ohio's advanced manufacturing and aerospace industry is now valued at $7.5 billion. It employs more than 100,000 people, he said.
"It's part of who we are as Ohioans," Mr. Portman said.
Mr. Horack described Ohio as the "first stage of a booster rocket" of aerospace knowledge.
"The time is now," he said.
The building-blocks metaphor was used throughout the day, beginning with a panel that featured four Apollo astronauts. One of them, Apollo 7 astronaut Walt Cunningham, 85, described their time in space as the "Golden Age of manned space flight."
That opening panel also included Michael Collins, 86, the command module pilot for Apollo 11 who stayed in orbit while Mr. Armstrong and Buzz Aldrin became Earth's first two men on the moon. Mr. Collins also flew into space before that aboard Gemini 10.
Mr. Collins was joined by Mr. Worden, Mr. Cunningham and another astronaut, Harrison Schmitt of Apollo 17, as well as Arnold Aldrich, one of the space agency's most legendary supervisors. Mr. Aldrich held a number of key management positions during the Mercury, Gemini, and Apollo programs during a 35-year career, which also included oversight roles with Skylab, the Apollo Soyuz Test Project, and the space shuttles Discovery and Atlantis. After the Jan. 28, 1986, explosion of the shuttle Challenger, Mr. Aldrich was appointed National Space Transportation System director, where he led recovery and return-to-flight efforts.
The space race with the Soviet Union kicked into high gear on May 25, 1961, when former President John F. Kennedy told a joint session of Congress he wanted America to "commit itself to achieving the goal, before this decade is out, of landing a man on the moon and returning him safely to the Earth."
Technological challenges aside, though, it wasn't even clear in 1961 if the moon surface was solid enough to support astronauts and lunar modules, Mr. Aldrich said.
"At the start of that period, people didn't even know if you could land on the moon," he said.
He and others said JFK's challenge continued to inspire them for years.
"The whole country was behind it," Mr. Aldrich said of the historic 1969 moon landing and others that followed. "We certainly felt all of that."
Goals and challenges
This December will mark 45 years since the last American stepped foot on the moon.
No Russians have. But China is building a manned spacecraft capable of sending astronauts to the moon as well as near-Earth orbit flight, according to a report issued in March by Chinese state media. Reuters has reported that China is targeting 2036 as the year it will put a man on the moon.
"They've got the resources and the motivation," Mr. Worden said.
Nothing's definitive yet about NASA going to Mars. But there's a lot of optimism.
Mr. Collins made a case for landing on — possibly even colonizing — the Red Planet in a 1990 book, Mission to Mars.
"It's a helluva journey ahead for somebody and I hope we can get on with it," Mr. Collins said at the OSU event.
Going to Mars is doable. But it will pose many challenges hard to comprehend, he and other speakers said.
NASA has said it will take at least eight months to get there.
"It will be tougher than we ever had it on Apollo," Mr. Cunningham said.
Some also aren't ruling out a return to the moon.
While addressing the audience during his installation, Mr. Horack agreed Mars is an important goal but said the moon should be viewed as an "essential training ground" the United States could use a base for space operations.
"Just like when you get your driver's license, you do not take the car out on a cross-country trip," he said. "We need lunar infrastructure."
Mr. Schmitt, 81, said he believes China's interest in the moon could inspire America to go back there or, if nothing else, rekindle the nation's passion for space travel in general.
"They're moving in many directions to dominate the culture of the Earth," Mr. Schmitt said of the Chinese. "Let's get with it, that's all I'll say."
Ohio's role
Whichever direction the space program goes, Ohio will be there.
The Buckeye State is one of America's tops for producing astronauts, with 25. Those from northwest Ohio include Mr. Armstrong and Terence T. "Tom" Henricks, 64, of Woodville. Mr. Armstrong grew up on a farm near Wapakoneta, about 95 miles southwest of Toledo.
But numbers don't tell the whole story: Some of the space program's most important research is done at the NASA Glenn Research Center in Cleveland and its satellite campus in Sandusky, the Plum Brook Station.
Both have been involved in testing the European Space Agency's service module for Orion, a 75-foot spacecraft NASA has under development with European scientists for the next generation of space travel. The device is undergoing a series of vibration, acoustic, strength, and temperature tests.
NASA Glenn is one of the space agency's 10 field centers across the country.
Its director, Janet Kavandi, 57, is an astronaut from Missouri who oversees 3,200 employees and a $625 million budget.
She was on shuttle flights in 1998, 2000, and 2001, logging more than 33 days in space and orbiting the Earth 535 times — a distance of more than 13.1 million miles.
"Ohio has figured prominently in the nation's space program," she told the audience at the Columbus event.
People who were close to Mr. Armstrong made multiple references to him throughout the event.
The consensus among them was that — though he was a modest Midwesterner — Mr. Armstrong was not at all the recluse he was portrayed as in various media reports. Mr. Portman noted how he began teaching aerospace engineering at the University of Cincinnati in 1971, two years after the Apollo 11 mission.
Mr. Armstrong told friends that being the first man to walk on the moon was an honor, a culmination of years of teamwork, and that he didn't want to diminish the feat by trying to reap commercial gain from it.
Mr. Armstrong died Aug. 25, 2012. Mr. Portman delivered the eulogy at his funeral.
During his address at OSU last Monday, Mr. Portman described Mr. Armstrong as "grace under pressure" for safely navigating the distressed Gemini 8 spacecraft back to Earth in 1966 when it had the space program's first critical in-space system failure. The planned three-day mission was aborted after less than a day.
"He was fearless, he was unshakable, he was a patriot," Mr. Portman said.
Contact Tom Henry at: thenry@theblade.com, 419-724-6079, or via Twitter @ecowriterohio.
Guidelines: Please keep your comments smart and civil. Don't attack other readers personally, and keep your language decent. Comments that violate these standards, or our privacy statement or visitor's agreement, are subject to being removed and commenters are subject to being banned. To post comments, you must be a registered user on toledoblade.com. To find out more, please visit the FAQ.