New law helps alert police to presence of someone with autism
5/14/2018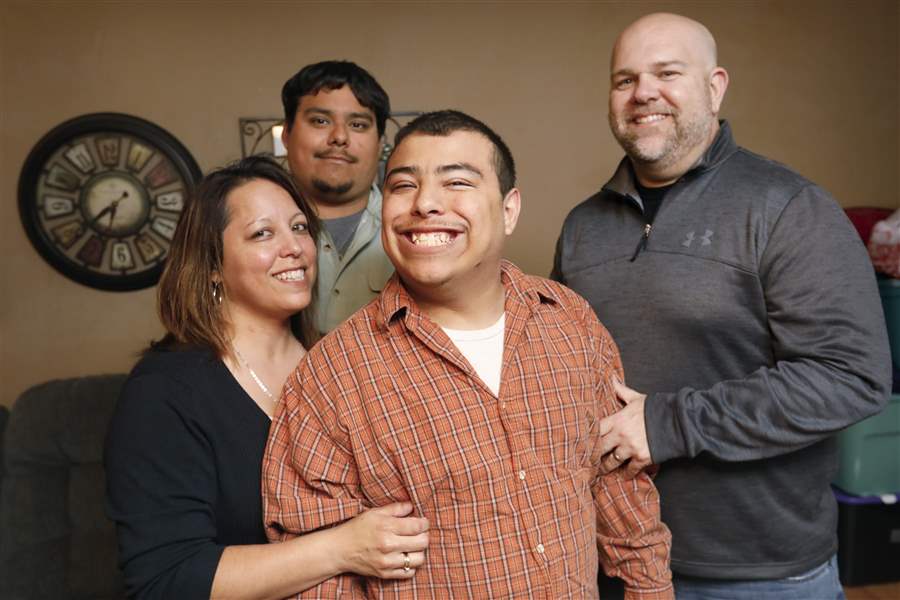 Jenny Hughes, left, her sons Jay Castro, 24, top center, Gabe, 23, front center, and husband Shawn Hughes embrace as they stand in their living room Friday in Walbridge. Both Gabe and Jay are on the autism spectrum. Ms. Hughes advocated for a statewide system to alert officers on traffic stops when someone nonverbal could be inside the vehicle.
The Blade/Katie Rausch
Buy This Image
COLUMBUS — The brainchild of a Walbridge woman seeking to protect her autistic sons has become a new law that attempts to alert police officers in traffic stops of the possible presence of someone with a communication disability that might be mistaken for driver impairment or, worse, a threat.
The law takes effect in early August.
Jenny Hughes, left, her sons Gabe, 23, front center, Jay Castro, 24, top center, and husband Shawn Hughes embrace as they stand in their living room Friday, May 11, 2018, in Walbridge. Both Gabe and Jay are on the autism spectrum and are mostly nonverbal.
It creates a database accessible by law enforcement that would advise an officer that he might be approaching a vehicle with a driver or passenger with autism, hearing problems, Parkinson's, mental illness, or some other disability making communication difficult, particularly during stressful situations.
"It was very important to me because I have a (permit to carry a concealed weapon) to protect my children," Jenny Hughes said. "I thought: Did I just put them in more danger? My youngest son would get overstimulated if we got pulled over. He would start bouncing. I have no doubt the lights would make him bounce.
"From behind, he's a grown man, and they might think he was going for a gun because the CCW would ping (on the Law Enforcement Automated Data System)," she said. "Why can't we do the same thing that CCW does?"
House Bill 115, sponsored by Reps. Theresa Gavarone (R., Bowling Green) and Scott Wiggam (R., Wooster), creates the opportunity for people to voluntarily submit information to a new Department of Public Safety database. That database would be linked to LEADS, the system on which police run license plates.
"I thought it was foolproof," Ms. Hughes said "I couldn't understand why it wasn't already in place."
Her older son is high functioning, works, and recently started to drive. Her younger son is more severely autistic and cannot drive, but such a database would link both sons to vehicles she owns.
She turned to Ms. Gavarone when she learned such a database didn't already exist.
"Law enforcement officers have a split second to make decisions," Ms. Gavarone said. "This will give them more information that may help the situation."
Someone with a communication disability or that person's parent or guardian may voluntarily access a form to be made available on the state Opportunities for Ohioans with Disabilities Agency's website. In addition to information about the person with the disability and the vehicle, a signed certification of the condition from a physician, psychiatrist, or psychologist would be included.
The information would be fed into a restricted-access database linked to LEADS. The person in question could at any time have his name removed from the database. The information would be exempt from public records law.
"I worked with all sorts of disability groups, and they did not want labels on license plates or on drivers' licenses," Ms. Gavarone said. She noted that the program is voluntary because of concerns that automatically placing such information in a database might be considered a violation of medical privacy law.
She said the database could also be helpful in cases where police encounter someone acting strangely in a public place such as a park. By entering the person's driver's license information into the database, police could have a better understanding of the situation.
The bill passed both the House and Senate unanimously and was recently signed by Mr. Kasich. It had broad support from groups like the Ohio Association for the Deaf, Ohio Association of Chiefs of Police, the National Alliance on Mental Illness, and the Ohio Center for Autism and Low-Incidence.
Mr. Kasich also signed House Bill 354, sponsored by Rep. Bill Reineke (R., Tiffin), to give Tiffin-Fostoria Municipal Court and the Seneca County Court of Common Plans joint jurisdiction to operate a drug addiction recovery program.
Contact Jim Provance at: jprovance@theblade.com or 614-221-0496.