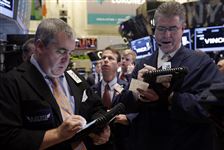 Major stock indexes dropped slightly in trading on Monday.
ASSOCIATED PRESS Enlarge
NEW YORK — The stock market is closing lower after the holiday shopping season got off to a disappointing start.
The Dow Jones industrial average fell 77 points, or 0.5 percent, to close at 16,008.77 today. The Standard & Poor's 500 index fell four points, or 0.3 percent, to 1,800.90. The Nasdaq composite fell 13 points, or 0.4 percent, to 4,045.26.
Shoppers turned out in record numbers in the four days ended Sunday, but plunked down less cash than they did last year. It was the first decline in Thanksgiving weekend spending since a retail trade group began tracking it in 2006.
Investors reacted by selling all types of retailer stocks, from department stores to specialty chains. J.C. Penney, Target, and Coach fell more than 1 percent each. Urban Outfitters dropped 3.5 percent.
Guidelines: Please keep your comments smart and civil. Don't attack other readers personally, and keep your language decent. Comments that violate these standards, or our privacy statement or visitor's agreement, are subject to being removed and commenters are subject to being banned. To post comments, you must be a registered user on toledoblade.com. To find out more, please visit the FAQ.