Home
→
Sports
→
Tigers
31 stories in section, viewing 1 through 10
9/3/2015 12:07 AM
Royals offense rolls in 12-1 rout of Tigers
KANSAS CITY, Mo. — Yordano Ventura struck out 11 over seven…
9/2/2015 12:29 AM
Verlander, Kinsler lead Tigers over Royals
KANSAS CITY, Mo. — Justin Verlander threw his fifth…
9/1/2015 7:46 PM
Tigers recall Ryan, Holaday from Hens
Will be pitcher's fourth stint with Detroit, catcher's second. …
8/31/2015 12:00 AM
Ausmus: Tigers have to 'man up' after being swept
Detroit quickly falling out of wild card contention.
8/30/2015 12:01 AM
Encarnacion's hat trick of homers sink Tigers
Detroit routed 15-1.
8/28/2015 1:00 AM
Tigers' bats struggle in home loss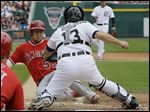 DETROIT — The Detroit Tigers know they have good…
8/27/2015 4:16 PM
Tigers shut down, lose 2-0
Shoemaker allows one hit in 7.1 innings for Angels.
8/27/2015 12:15 AM
Verlander flirts with no-no
Tigers ace loses no-hit bid in ninth, gets the shutout.
8/26/2015 12:09 AM
Pujols, 3 wild pitches help Angels beat Tigers 8-7
DETROIT — Albert Pujols homered and the Los Angeles Angels…