The bumbling bureaucrat versus the right-wing reactionary
8/30/2018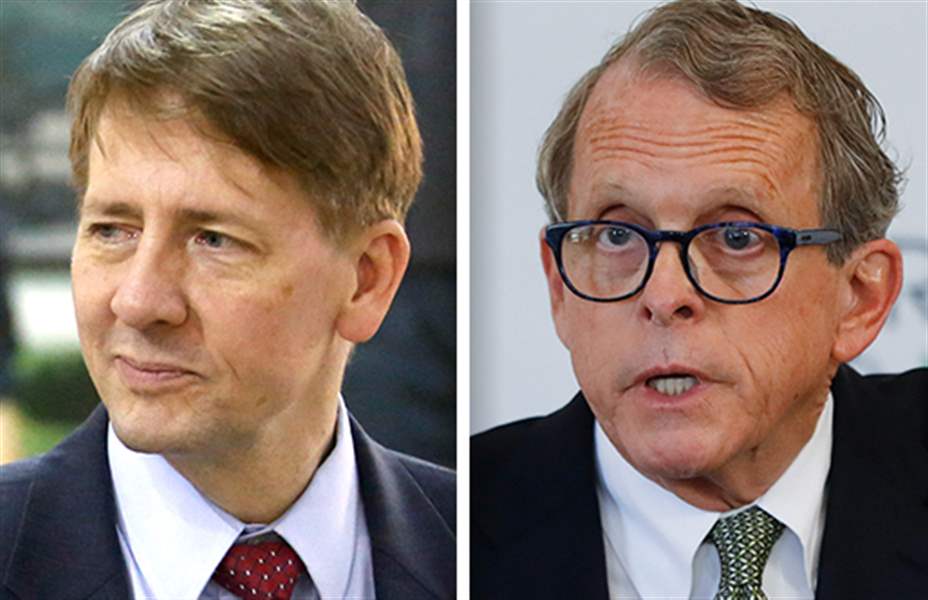 Democrat Richard Cordray, left, and Republican Mike DeWine are facing off for Ohio governor in the fall.
ASSOCIATED PRESS
If you follow the TV advertising, the campaign appearances, and the social media exchanges, Ohio's race for governor is between a bumbling bureaucrat and a scary right-wing reactionary.
Neither one is very accurate.
Democrat Richard Cordray — a former Franklin County treasurer, Ohio treasurer, Ohio attorney general, and director of the U.S. Consumer Financial Protection Bureau — is supposedly the bumbling bureaucrat. And yet, he is lauded by former President Obama and U.S. Sen. Elizabeth Warren for his success standing up against consumer fraudsters.
Republican Mike DeWine — Ohio's attorney general and lieutenant governor under Gov. George Voinovich — is supposedly the scary reactionary. He's the former U.S. senator who lost re-election in 2006 for being too willing to compromise with Democrats.
Hey, it's the best they can both work with. And of the two, Mr. Cordray is the one who has the most to worry about.
Mr. Cordray's campaign has been working to improve his name recognition while simultaneously reworking early impressions that he is stiff or socially awkward to make those into positive and endearing attributes.
There is a TV and social media campaign seeking to introduce Mr. Cordray as a mixture of consumer avenger and Boy Scout. The "A Nice Tough Guy" ads show him helping a little old lady load groceries in her car and sitting on a storefront stoop feeding a dog.
At the same time, he tweets and campaigns aggressively on behalf of progressive social, medical, and labor issues, attacking his opponent for a too-chummy relationship with the online charter school that was found by the state Department of Education to have overbilled taxpayers by some $80 million. His ads say he saved consumers $12 billion as the director of the Consumer Financial Protection Bureau.
Mr. DeWine, who has an aw-shucks country lawyer kind of image, has geared up a campaign that is anything but corn pone. It's designed to weaken voters' confidence in Mr. Cordray before they really get to know him.
Mr. DeWine has attacked Mr. Cordray in a $4 million television ad campaign over his alleged failure to test rape kits. Said the DeWine campaign: Mr. Cordray "knew" about the rape kits and did nothing. He allowed serial rapists to rampage freely.
In fact, Mr. DeWine had the insight to recognize the problem of the neglected rape kits and the bounty of criminal evidence they contained and he did act to get the rape kits tested. This campaign by itself should dispel the idea that Mr. DeWine is anti-woman.
However, it took almost his entire two terms as attorney general to get it done. According to the DeWine campaign, Mr. Cordray, who was in office only two years, was supposed to have discerned the issue and have it solved even before it was widely exposed in 2011 — after Mr. Cordray left office.
The newest count in the DeWine political indictment of Mr. Cordray is that the CFPB was a "toxic workplace," rife with allegations of discrimination, sexism, and intimidation.
The office was the brainchild of Sen. Warren and was pushed through by President Obama. It grated on Republicans who felt that its director, Mr. Cordray, was vested with too much power.
CFPB is a particular hot button for President Trump, who has already expressed his eagerness to see Mr. Cordray defeated.
The Cordray campaign narrative against Mr. DeWine is that he will implement conservative social policy.
Hard to see how this wins the election for Mr. Cordray.
Mr. DeWine has endorsed Medicaid expansion, even though he waited until after the primary election to do so.
It's claimed that Mr. DeWine is soft on domestic violence because he only gave a five-day suspension to an assistant attorney general in his office who remarked to a woman that hitting women is "fun."
Also claimed about Mr. DeWine, he won't say if he would be open to a "right to work" law for Ohio. Conservatives want "right to work" because it undermines the bargaining power of unions. Mr. DeWine says opaquely that it is not on his agenda. Other governor candidates have said the same thing and then signed right-to-work laws when they passed in his state.
Mr. DeWine's voter base are conservatives and independents who like the economy that the tax-cutting and pro-business policies of recent years have contributed to. The DeWine base includes social conservatives who want to protect gun rights and who want to see abortion vanish off the face of the earth.
Mr. Cordray's voter base wants a state that spends more money on education and that protects the rights of women and LGBTQ people.
Mr. Cordray has the potential to sway independent and moderate Republican voters who are disgusted by the misuse of education funding to support a GOP-politically connected online charter school company and by the investigation into possibly bribery and extortion involving the former speaker of the House.
So far, though, it's the DeWine campaign that's landing the punches.
Contact Tom Troy at tomtroy@theblade.com, 419-724-6058, or on Twitter @TomFTroy.