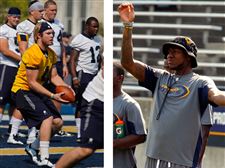 Austin Dantin, left, was at the controls of the Rockets' offense in the afternoon, while Terrance Owens, right, was on the sidelines. Owens took the snaps during the first preseason practice in the morning.
THE BLADE/LORI KING
Enlarge | Buy This Image
The quarterback to take the first snap at the University of Toledo's first practice was ... sorry — sort of a trick question.
Co-starters Terrance Owens and Austin Dantin were at the controls of separate offenses Friday, the result of the coaching staff splitting the roster into two parts and conducting two practices. This schedule, which calls for one practice at 8:30 a.m. followed by another at 4:25 p.m, will last for a week and is designed to give increased opportunities to younger players and allow for their coaches to evaluate them more thoroughly.
Arranging for separate practices — not to be mistaken with two-a-day practices — is not new around here. Former coach Tim Beckman broke the team into halves one preseason, and current coach Matt Campbell coached and played in the system at Mount Union. A voluminous roster at Mount Union, often in the neighborhood of 300, necessitated separate practices. At UT, an abundance of youth, with 56 players in their first or second season, mandates a tweaked itinerary.
"With having so many young kids in our program, I felt it was an opportunity to get them great reps early on," Campbell said. "The best way to evaluate kids is to let them play and evaluate their play."
Although Campbell said he divided the roster "as evenly as possible," the reality is the projected starters and key back-ups practiced in the morning, leaving an afternoon group rife with freshmen and scout team guys. Owens participated in the morning, a sign that he has not relinquished the edge he gained last season over Dantin. The media, which was barred from the morning practice, needed to peruse a roster often as they saw Dantin operate a unit filled with newcomers. The only projected starters to take the field in the afternoon were outside linebacker Vladimir Emilien and cornerback Chris Dukes.
Locked into one of the only true competitions in camp, Dukes practiced alongside his main competitors, Keith Suggs and Kishon Wilcher. Byron Best, atop the depth chart at the other cornerback spot, apparently was part of the morning group.
"We've got an opportunity right now to find two, three, four [cornerbacks] to come into the football game and play consistently for us," Campbell said.
Campbell said the staff will revise its depth chart after Friday, the fifth and final day of split practices. Two-a-days, when the entire team comes together for two practices in a day, begin Aug. 13.
GRAYSHIRTS: Two freshmen will grayshirt, delaying their joining the team until the spring, while two others find themselves in limbo.
Defensive tackle Treyvon Hester and receiver Corey Jones, high school teammates at Pittsburgh Penn Hills, are enrolled in classes at UT and are awaiting the results of a ruling from the NCAA Clearinghouse. If they are accepted, they will join the team immediately. If not, they'll be in the same position as running back Jody Webb and Armani Miller and join the team in the spring. Webb and Miller are expected to enroll at UT in the fall. Grayshirts are enrolled in school only part time, meaning their eligibility "clock" does not start.
SHORT YARDS: Following a trend set at UT by Beckman, Campbell is staying with his team in a campus dormitory during the preseason. ... Reserve running back Darius Reeves (undisclosed injury) is out and his availability for the season opener is unknown. ... Offensive lineman Kyle Cameron, a victim of many concussions dating back to high school, has accepted a medical hardship waiver. The Central Catholic graduate will remain a part of the program as a pseudo coach.
Contact Ryan Autullo at: rautullo@theblade.com, 419-724-6160 or on Twitter @AutulloBlade.
Guidelines: Please keep your comments smart and civil. Don't attack other readers personally, and keep your language decent. Comments that violate these standards, or our privacy statement or visitor's agreement, are subject to being removed and commenters are subject to being banned. To post comments, you must be a registered user on toledoblade.com. To find out more, please visit the FAQ.