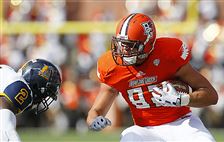 Bowling Green is solid at tight end with Alex Bayer leading the way with 18 catches for 204 yards this season.
BLADE/ANDY MORRISON Enlarge
The most hyped football game in many seasons between the University of Toledo and Bowling Green State University promises to be tight.
The Blade broke down each position group for Saturday's 2:30 p.m. game at BG's Doyt Perry Stadium and gave the Rockets the edge at six spots and the Falcons at five. One battle was too close to call.
BG, which is seeking its first win over UT since 2009, is a four-point favorite.
Quarterback: While UT's Terrance Owens has more history, BG's Matt Johnson has had the bigger season. The Falcons average almost 100 passing yards more per game than UT thanks largely to Johnson, who has completed 64 percent of his passes with just three interceptions and nine touchdowns. Edge: BG
Running back: Until told otherwise, the safe bet is to assume David Fluellen is playing. Fluellen, bothered by a hurt back, is the MAC's top ball carrier and the best back to play in this series since UT's Chester Taylor 10-plus seasons ago. If Fluellen can't go, BG gets the nod. Travis Greene (810 yards, 6 ypc) fortified a backfield that looked shaky after Anthon Samuel's transfer. Edge: UT
Wide receiver: BG coach Dave Clawson this week called UT's skill positions "basically an All-MAC team," and touted Rocket receivers Bernard Reedy, Alonzo Russell, and Justin Olack as "exceptional." Both claims seem a little over the top, but UT's receivers get the edge here. Reedy is an All-MAC talent and Russell will join him in time. Edge: UT
Offensive line: Even though BG has made strides from a unit last season that Clawson called "dysfunctional" heading into this game, UT is better. Anchored by potential NFL draft picks Zac Kerin and Greg Mancz, the Rockets lead the nation with three sacks surrendered and head a ground game averaging 6.4 yards. Edge: UT
Tight end: The Falcons have one of the best in Alex Bayer, who has 18 catches for 204 yards. His backup is a strong one in Tyler Beck, who has seven catches for 131 yards and a TD. If that's not enough, Chris Pohlman has been good enough to start for a number of teams. UT's Alex Zmolik (three catches) is a decent talent in an offense that de-emphasizes his position. Edge: BG
Defensive line: While UT may have the best individual in Jayrone Elliott (six sacks), the Falcons are deeper. BG has overcome injuries to rank fourth in the MAC against the run. Inexperienced players such as Kendall Montgomery and Taylor Royster (three sacks each) have stepped forward. Edge: BG
Linebacker: These two units are very even, but when Toledo lost Trent Voss to injury last week the pendulum swung toward BG. All-MAC rover Gabe Martin impacts both the run and pass defense, while D.J. Lynch (team-high 41 tackles) and Paul Swan (37) are steady on the inside. Edge: BG
Defensive back: Few teams can match the Falcons depth and experience here. Corner Cam Truss and safety BooBoo Gates are in line for All-MAC honors for the second straight season as BG has allowed just 191.3 passing yards per game, the second-lowest total in the league. Edge: BG
Kicker: Clawson was so scorned by his kicking game a year ago he opted to not attempt an extra point in the second half at UT. In his first four seasons at BG, Clawson's kickers made 54 percent of their field goals (35 of 64). Tyler Tate (8 of 11) is instilling confidence, but he's no match for UT's Jeremiah Detmer who has made 29 of his last 30. Edge: UT
Punter: BG's Brian Schmiedebusch has the pedigree as a two-time All-MAC pick, but UT's Vince Penza has the better numbers at 41.5 yards per boot (Schmiedebusch averages 40.9). It's really close, though: The Rockets rank fifth in the MAC in net punting (36.8 yards per kick), and BG is sixth with the same average. Edge: UT
Kick returner/​Punt returner: With perhaps the best speed of anyone on the field, UT's Reedy is a threat to flip field position on every touch. Reedy, who scored four special teams TDs a year ago, is still seeking his first. BG counters with the shifty Ryan Burbrink, who returned a punt for a TD in the opener against Tulsa. Edge: UT
Coach: Counting his time during two stints on staff at BG, UT's Matt Campbell is 6-2 in this rivalry. BG's Clawson, seeking his first win over UT since his initial season in 2009, has reshaped the program into a MAC title contender. Both coaches have generated attention from bigger programs, including for the same job — Wisconsin — last offseason. Edge: Even
Guidelines: Please keep your comments smart and civil. Don't attack other readers personally, and keep your language decent. Comments that violate these standards, or our privacy statement or visitor's agreement, are subject to being removed and commenters are subject to being banned. To post comments, you must be a registered user on toledoblade.com. To find out more, please visit the FAQ.