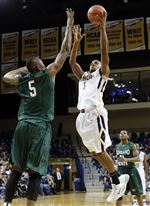 University of Toledo guard Rian Pearson (24) shoots against Cleveland State center Ismaila Dauda (5) during the first half.
BLADE/JEREMY WADSWORTH Enlarge
The University of Toledo men's basketball team remained unbeaten Saturday with a 71-67 home win over Cleveland State.
Justin Drummond stole the ball from CSU's Trey Lewis and was fouled with 0.4 seconds left to push the Rockets to 11-0.
J.D. Weatherspoon led UT with 18 points and Nathan Boothe had 14. Rian Pearson contributed 11, helping to offset a combined 2 of 18 shooting performance by starting guards Drummond and Julius Brown.
Lewis led CSU with 21 points.
PHOTO GALLERY: Click here.
Guidelines: Please keep your comments smart and civil. Don't attack other readers personally, and keep your language decent. Comments that violate these standards, or our privacy statement or visitor's agreement, are subject to being removed and commenters are subject to being banned. To post comments, you must be a registered user on toledoblade.com. To find out more, please visit the FAQ.