UT women win 62-58
Late 3-pointer rallies Rockets past Ohio at Savage Hall
2/15/2014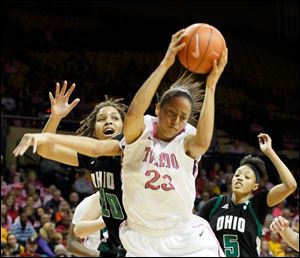 UT's Inma Zanoguera holds onto a rebound despite the efforts of OU's, Lexie Baldwin, 10.
Ana Capotosto hit a late go-ahead 3-pointer and the University of Toledo women's basketball team rallied past Ohio for a 62-58 win today at Savage Hall.
Trailing 53-49, the Rockets (12-11, 7-5 MAC) answered with a 12-2 run to secure their third straight win. Capotosto's 3 broke a 55-55 tie with 1:01 left.
Inma Zanoguera and Angela Dortsch each had 12 points to lead four Rockets in double figures. Janelle Reed-Lewis added 11 points and Janice Monakana had 10.
Ohio (8-15, 3-9) lost its eighth straight game.
PHOTO GALLERY: Click here to view photos of the game.