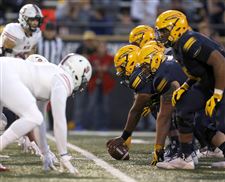 BLADE/KURT STEISS Enlarge
The University of Toledo football team received another commitment to add to its highly thought of 2018 recruiting class.
Desjuan Johnson, a 6-foot-3 240 pound defensive end from Detroit's East English Village Prep, flipped his commitment from Western Michigan to Toledo on Friday.
Johnson is a three-star recruit and is the 50th ranked strong side defensive end according to 247Sports.
According to 247Sports, Toledo's class of 19 commits ranks second in the Mid-American Conference behind Western Michigan and 70th nationally.
UT also got a recent commitment from Nick Carey of Detroit Catholic Central. Carey is a 6-foot-7 290 pound offensive lineman. He is ranked 191 at his position according to 247Sports. He officially committed to Toledo on Oct. 31.
Carey is the sixth offensive line recruit in Toledo's class, with Samuel Baker out of Florida as the highest rated by 247Sports.
Defensive back A.J. Hampton, from Florida, is the highest ranked overall recruit for Toledo with a grade of .8466 from 247Sports.
Contact Brian Buckey at bbuckey@theblade.com, 419-724-6110, or on Twitter @BrianBuckey.
Guidelines: Please keep your comments smart and civil. Don't attack other readers personally, and keep your language decent. Comments that violate these standards, or our privacy statement or visitor's agreement, are subject to being removed and commenters are subject to being banned. To post comments, you must be a registered user on toledoblade.com. To find out more, please visit the FAQ.