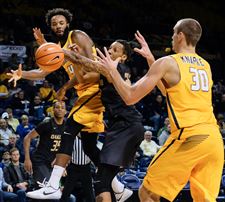 After a 3-0 start, Toledo hits the road for games at Syracuse, Cornell, and Kansas.
BLADE/JEREMY WADSWORTH Enlarge
When the University of Toledo men's basketball team travels Wednesday to Syracuse, the Rockets will experience everything that has become a staple of that program — a legendary coach in Jim Boeheim, a packed Carrier Dome, and of course, the trademark 2-3 zone.
"Any time you go play an ACC opponent and especially one that has the national name and brand as Syracuse, it's great for our program," UT coach Tod Kowalczyk said. "I think our guys are extremely confident. They are very confident playing against zones. We're excited about the opportunity that this presents."
Kowalcyzk said it is almost impossible to replicate the length and athleticism of the 2-3 zone Syracuse uses. But he can draw on matchups against Eastern Michigan, where former Syracuse assistant Rob Murphy uses a similar defense.
"You can't simulate it in practice, but our veteran guys have gone against it at Eastern Michigan and I've said many times that I think Eastern Michigan's zone is every bit as good as Syracuse's," Kowalczyk said. "Syracuse might be a little bit longer, especially at the five spot, but they are both exceptionally active zones and ones that you have to be patient; you can't get frustrated, and you have to be able to move the ball a little bit."
The Syracuse game is the start of a three-game road trip for UT that has stops Friday at Cornell and Tuesday at No. 3 Kansas. The road trip comes at a time when the confidence of the young Rockets is high after a 3-0 start.
"It felt really good to get the first three wins," UT sophomore center Luke Knapke said. "We faced three tough opponents. We really put our will on the defensive end, and that really helped us to get ahead in the Oakland and St. Joseph's games."
Toledo knows its early-season success will be put to the test, but the Rockets are welcoming the opportunity to find out more about how this team competes on the road.
"It's huge for the program," UT junior center Taylor Adway said. "Just to go out there and get that exposure against Syracuse, Kansas, and we also have Cornell in there, it's big for the program. It's going to give us good exposure, and it will once again let us know where we are at against bigger opponents. We're going out there to win and compete on every play."
The Rockets have relied on the scoring duo of junior Jaelan Sanford (23.3 points per game) and senior Tre'Shaun Fletcher (20.0) so far.
"We got a big win against St. Joe's to start the season," Adway said. "Then we came out kind of slow against Ohio Northern. So to come out there against Oakland and play how we played, it just let us know where we are at as a team. Ohio Northern, we didn't shoot the ball well, and against Oakland we didn't shoot the ball well. I thought the biggest difference was that in the Ohio Northern game we let it affect us defensively. Against Oakland, even though we didn't make shots, we played defense and we didn't let missing shots affect us. We kept attacking the rim and playing defense."
Kowalczyk said he expects a big crowd at the Carrier Dome for Syracuse, which is off to a 4-0 start. Knowing this was the first regular-season road game his team would play this season, Kowalczyk sought out a charity exhibition game at Findlay, which Toledo lost 89-86.
"I think they will handle it fine," Kowalczyk said of the upcoming road trip. "That's why we did the Findlay game is to give them a good road environment that Findlay had. I've had a chance to play at Syracuse when I was in the Big East. They are going to have over 20,000 people, and it's going to be a great atmosphere."
Contact Brian Buckey at: bbuckey@theblade.com, 419-724-6110, or on Twitter @BrianBuckey.
Guidelines: Please keep your comments smart and civil. Don't attack other readers personally, and keep your language decent. Comments that violate these standards, or our privacy statement or visitor's agreement, are subject to being removed and commenters are subject to being banned. To post comments, you must be a registered user on toledoblade.com. To find out more, please visit the FAQ.