The University of Toledo club hockey team has been approved to make the jump to the top division of the American Collegiate Hockey Association.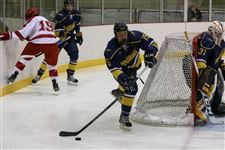 The Toledo club hockey team will move up to Division I next year in the American Collegiate Hockey Association.
Evan Procaccini Enlarge
The Rockets, who compete as an independent in Division II of the ACHA, will elevate to Division I status starting with the 2018-19 season.
"We're extremely excited to be accepted into that division and to have the rest of the membership inside of the ACHA Division I consider us worthy to be up at that level," said Greg Urig, general manager of the UT hockey program. "We're really excited to bring an even better brand of hockey to the university and the surrounding community."
The application to be accepted into Division I is first presented to the general membership of schools in Division I of the ACHA, then goes before an executive board. Factors like facilities, organizational structure, and strength of the program are considered before deeming a program fit to make the jump.
"I think it's a great testament to what we've put together, that these teams that we don't regularly play and don't regularly see know enough about us to say, 'Yeah that's a strong program. It's well established and can compete at that level,'" Urig said.
Toledo is 12-6 this season competing in Division II under head coach Bob Felser.
Felser said the team, which features mostly local players on its roster, is looking forward to competing at a higher level next season.
"Absolutely, It's definitely a step in the right direction," he said. "I think in general most of the players are very excited."
The ACHA is the national governing body for non-varsity college hockey in the U.S. and has five levels of competition, with three men's divisions and two women's divisions.
Toledo and William Paterson University in New Jersey will be the new men's Division I teams next season.
ACHA men's Division I commissioner Brian Moran thinks Toledo is in a good position to make the jump and will be able to compete at the highest level.
"They are in a great geographic area," Moran said. "They have a couple options for potentially getting into a league with the Great Lakes Collegiate Hockey League or College Hockey Mid-America. They have some options there, and they'll have plenty of chances to play teams if they play as an independent. There are lots of teams in Michigan right across the border and a couple teams in Ohio. They are in a good spot moving up to Division I, and they won't have any hassle getting good games."
Urig said Toledo will start out in Division I as an independent, then look to get into a conference like the Great Lakes Collegiate Hockey League, hopefully by the second season. The GLCHL features Adrian College, Oakland, and Kent State, among others.
"It's really just about seeking out the best competition and then hopefully doing well where we can be ranked high enough to make the national tournament at the end of the year," Urig said.
Contact Brian Buckey at: bbuckey@theblade.com, 419-724-6110, or on Twitter @BrianBuckey.
Guidelines: Please keep your comments smart and civil. Don't attack other readers personally, and keep your language decent. Comments that violate these standards, or our privacy statement or visitor's agreement, are subject to being removed and commenters are subject to being banned. To post comments, you must be a registered user on toledoblade.com. To find out more, please visit the FAQ.