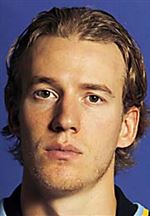 Novak.
The Blade
Enlarge | Buy This Image
with Travis Novak
Position: Forward
Jersey Number: 12
Ht./Wt: 5-11, 185
Hometown: Lethbridge, Alberta
Age: 24
Favorite way to spend time away from the rink: When we're not in season, I like to golf a lot. I like to read and play video games.
Hockey player and team you admired growing up: Joe Sakic and the Colorado Avalanche. I got to meet him when I was 15. They won the Cup in 1996 and I liked them ever since.
Favorite sport other than hockey: Golf. I'll watch hockey and football on TV.
Favorite type of music: Country. When I'm getting ready for games, I like rock and techno.
Favorite meal: Steak.
Have you ever eaten walleye? I have, and it's delicious. We have a lot of walleye up in Minnesota where I went to college.
Favorite beverage: Vitamin water and chocolate milk.
Best fast food: Subway.
Favorite movie: Remember the Titans.
Favorite TV Show: The Big Bang Theory.
Favorite video game: Call of Duty.
Favorite Web site: Google.
Do you have a Twitter account? No, haven't gotten into that. It's not my thing.
Person you most admire: Parents, John and Tina.
If you could meet any person who would it be? President Obama.
Favorite place you've been to? Dominican Republic.
Top sports moment: Winning a national championship in Omaha (2008 in the USHL).
What's your hockey superstition? I like to get a nap in before a game.
Nickname: Novy.
If you were commissioner of hockey for a day what would you do? No more lockouts.
What would you be doing if you weren't playing hockey? Not really sure. I'll wait and see what interests me the most.
Something nobody knows about you: People give me a hard time because I was born in Michigan. I always say I am Canadian. But the guys always say I am American.
Guidelines: Please keep your comments smart and civil. Don't attack other readers personally, and keep your language decent. Comments that violate these standards, or our privacy statement or visitor's agreement, are subject to being removed and commenters are subject to being banned. To post comments, you must be a registered user on toledoblade.com. To find out more, please visit the FAQ.