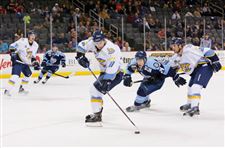 Toledo Walleye player Scott Arnold (11) picks up a loose puck against the Evansville IceMen during the second period.
Blade/Andy Morrison Enlarge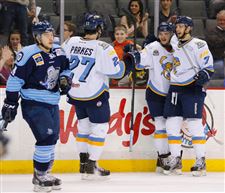 Toledo Walleye players Trevor Parkes (27) Martin Frk (19) and Max Nicastro (7) celebrate Frk's goal against Evansville IceMen during the first period.
Blade/Andy Morrison Enlarge
The Toledo Walleye won their second consecutive game tonight as they rallied from behind to knock off Evansville 5-2.
Down by one goal midway through the third period, Toledo scored three unanswered goals in a span of 5:02 to complete the comeback.
The Walleye tied it up on Marek Tvrdon's slap shot after a mad scramble in front of the Evansville net. David Gilbert got the assist on the goal that tied it at 2 with 10:03 left.
PHOTO GALLERY: Click here.
The Walleye then took a 3-2 lead on Gilbert's goal with 7:26 remaining. Gilbert showed great patience and skill to get Evansville goalie Garrett Bartus out of position on the game winner.
Tvrdon then scored again on a long backhander with 5:01 left.
Alden Hirschfeld added an empty net goal with 19 seconds left to cap it.
Forward Martin Frk scored a first-period goal to tie the game at 1. But the IceMen scored with 15.1 second to take the lead before an announced crowd at 5,317 the Huntington Center.
The Walleye (7-11-3) had snapped a six-game winning streak with a 5-3 win over Evansville (12-6-3) on Friday on the strength of three first-period goals.
But Evansville struck first tonight on Matt Schepke's goal with 6:41 left in the first period.
The Walleye evened the score at 1 on Frk's fifth goal on a nice assist from Trevor Parkes with 2:38 left in first. Parkes earned his team-high 11th assists with a pass up ice to set Frk up right in front of Evansville goalie Bartus (31 saves).
Walleye goalie Hannu Toivonen, who made his third straight start, finished with 31 saves to get his second consecutive win.
Evansville scored with 15.1 seconds left in the second period to take a 2-1 lead. Former Walleye player Matt Krug tipped a shot past a screened Toivonen.
The teams meet again – the fifth time in Toledo's last six games – on Wednesday in Evansville.
The Walleye do not return home until after Christmas.
Guidelines: Please keep your comments smart and civil. Don't attack other readers personally, and keep your language decent. Comments that violate these standards, or our privacy statement or visitor's agreement, are subject to being removed and commenters are subject to being banned. To post comments, you must be a registered user on toledoblade.com. To find out more, please visit the FAQ.