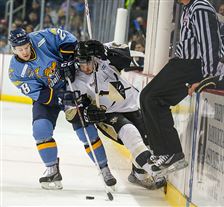 Toledo 's Bobby Shea, left, battles Wheeling's Jacob Lagace for control of the puck during the first period on Friday.
BLADE/ANDY MORRISON Enlarge
Sluggishness and a lack of offensive firepower for the Walleye, combined with weird bounces and a bad break, set the stage for a familiar story on Friday night.
Toledo gave up three unanswered goals, including two on fluke bounces, to start the game and lost 4-1 to Wheeling. The Walleye also had a good goal waved off, and they went on to lose their third straight contest before a crowd of 5,696 at the Huntington Center.
Defenseman Russ Sinkewich scored the only goal for the Walleye. It was the final game of the first half of the season for Toledo (12-21-3). Cody Sylvester scored twice for Wheeling (18-15-6).
PHOTO GALLERY: Click here to view photos from the game.
Toledo captain Kyle Rogers scored a goal by jamming away at the puck and pushing it in the net. The score would have made it 2-1 early in the second, but the referee ruled that it was illegally directed in with his hand.
"It's just the bad breaks that we've been getting," Rogers said. "But it's part of the game. It's been crazy."
Toledo had crushed the Nailers 7-0 at home just 12 days ago. But Friday the Walleye were without their top three scorers as Trevor Parkes, Travis Novak, and Alden Hirschfeld all were called up to the American Hockey League. Louis-Marc Aubry, the team's sixth-leading scorer, also is up in the AHL along with goalie Hannu Toivonen.
"There's no way around it, our overall offense got weakened with four players getting called up," coach Nick Vitucci said. "But some of the players had a great opportunity to prove themselves and step up. Instead they didn't do anything to play out of their comfort zone. I'd like to see a little more battle."
The Nailers took a 1-0 lead exactly two minutes into the game. Myles Harvey scored when his shot from the right point deflected off the stick of Walleye defenseman Bobby Shea and over the shoulder of goalie Mac Carruth (20 saves).
Carruth then came up with a big save to thwart a Nailer two-on-one breakaway with 4:46 left in the first period.
But the Walleye fell behind 2-0 after Sylvester scored on a shot that beat Carruth over his glove hand with 1:55 left in the first. Carruth later had an excellent glove save to keep it 2-0.
However, Wheeling took a 3-0 lead on another strange goal after Sylvester scored on a shot that was a double deflection and bounced off Walleye forward David Gilbert.
"That's hockey," Carruth said. "You have to be a pro and battle through it. You have to be ready to go. It was another tough bounce."
The goal came just over four minutes after it appeared Rogers had made it 2-1.
"In a game where you're not getting bounces you earn one and get it taken away from you. That even makes it worse," Vitucci said. "The ref was straddling the net looking at it. That was a terrible call and we are grasping for anything to go your way. And it is taken away from you."
Rogers said after a play like that the team should have gotten angry.
"[One of the linesmen] changed the ref's mind on that one," Rogers said. "You should feed off that."
Instead the Walleye looked sluggish after having six off days for the mid-season break. Toledo had only 27 shots and Wheeling had 24.
Toledo got on the board as Sinkewich found a loose puck in the slot and buried it to make it 3-1 with 6:40 left in the second period. Sinkewich, who returned from the AHL this week, scored his first goal. Sinkewich posted 10 assists in 20 games with Toledo earlier this year.
Midway through the third period, Wheeling was awarded a penalty shot as Richard Nedomlel took out Max MacKay on a solo breakaway. But Carruth stoned MacKay on the shot.
Chaz Johnson then gave Wheeling a 4-1 lead with 9:35 left in the game.
Toledo continues a three-game weekend homestand with a 7:15 p.m. game against Reading today. The Walleye host Greenville on Sunday.
Both Vitucci and Carruth (4-8-0), who lost his sixth straight, said they don't look at the standings, where the Walleye are buried in last place. Rogers pointed out that there are still 36 games to be played.
"The first half was definitely not the way we wanted it to go," Rogers said. "But there are two parts of the season. And now we have to bounce back."
Contact Mark Monroe at: mmonroe@theblade.com, 419-724-6354 or on Twitter @MonroeBlade.
Guidelines: Please keep your comments smart and civil. Don't attack other readers personally, and keep your language decent. Comments that violate these standards, or our privacy statement or visitor's agreement, are subject to being removed and commenters are subject to being banned. To post comments, you must be a registered user on toledoblade.com. To find out more, please visit the FAQ.