WALL TO WALL WALLEYE
Walleye playing for next season
Defenseman Nicastro: 'No one on this team is a quitter'
2/26/2014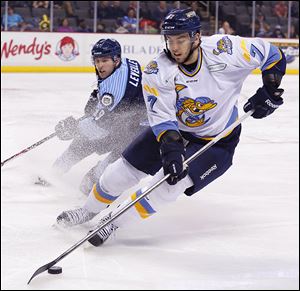 Max Nicastro was a 2008 third-round draft pick of the Detroit Red Wings. The defenseman has 15 assists in 41 games this season for the Walleye.
With any playoff hopes long since dashed, the final 21 games for the Toledo Walleye are becoming more like job auditions.
Toledo (16-31-4) has lost eight straight games and coach Nick Vitucci resigned on Tuesday.
Interim coach Dan Watson, Vitucci's assistant, hopes to prove he is a worthy successor over the final month of the season.
Players like defenseman Max Nicastro also know there still is a lot at stake. Nicastro, who was drafted by the Detroit Red Wings in 2008, has played in 41 games this season.
"You're playing for a job for next year," Nicastro said. "That's motivation. No one on this team is a quitter. You have to show up everyday and see what happens."
Nicastro, who will turn 24 on Sunday, is in the second year of his entry-level contract with the Red Wings.
"I want to show my teammates, coaches, and whoever else is watching … that I'm a good teammate and that I'm a physical player," Nicastro said.
The 6-foot-3 and 225 pound defenseman has 15 points — all assists.
This is Nicastro's second stint with the Walleye. The native of Thousand Oaks, Calif. played in nine games for the Walleye last season during his rookie campaign. Nicastro, who spent most of last season in Grand Rapids of the American Hockey League, scored two goals and had five assists in the regular season for Toledo. He also appeared in four playoff games for the Walleye and had one assist.
"I don't like to get scored on," Nicastro said. "Every shift I go out and tell myself to not get scored on."
Watson, who ran his first practice as head coach on Tuesday, said he will demand much out of Nicastro and his teammates.
"This is their job, too. They are paid to play hockey," Watson said. "So if they aren't being professional, we will make some moves. They have to come to work hard and that is what I will demand."
The Red Wings picked Nicastro in the third round (91st overall) in 2008. He played three seasons of college hockey at Boston University before turning pro in 2012. The stay-at-home defenseman had 11 goals and 22 assists in 102 games for the Terriers.
"I'm a big body," he said. "My biggest asset is ... playing good defense."
Nicastro missed the last two games with a shoulder injury.
"I tore my labrum but I had an MRI and it doesn't look too severe," Nicastro said. "I'm doing okay."
Nicastro said he hopes to be back on the ice this weekend when Toledo hosts Orlando Saturday and Sunday.
"I want to get back in the lineup and hope we can string some wins together," he said.
Nicastro was assigned to the Walleye from Grand Rapids just prior to the start of the season.
"Coming into camp it all looked good on paper," Nicastro said. "But that doesn't always cut it. It's been frustrating for sure."
He said the chemistry on the ice has been off because of roster instability with injuries and promotions.
"Everyone wants to be here but it's hard when you're losing to get up for every game," he said. "And then sometimes you try to do too much."
Nicastro said despite the team's struggles, the players still feel the support of the fans. A standing-room-only crowd of 8,250 filled Huntington Center on Saturday, which tied the all-time attendance mark set in October, 2011. It was the seventh sellout of the season for the Walleye and Toledo is third in the ECHL in average attendance with 6,189 spectators per contest.
"The fans are unbelievable," Nicastro said. "They still show up and that is really important to us. There's nothing more disappointing than playing in a barn that's not filled."
Contact Mark Monroe at: mmonroe@theblade.com, 419-724-6354 or on Twitter @MonroeBlade.