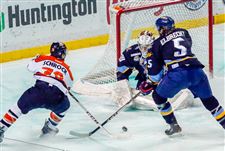 Toledo's Tyler Elbrecht blocks Kaleigh Schrock's shot in front of Hannu Toivonen.
Blade/Amy E. Voigt Enlarge
The utter disappointment was painfully vivid on the face of Walleye goalie Hannu Toivonen after the veteran netminder made 48 saves but still lost on Sunday afternoon.
Fort Wayne peppered the Toledo net with 51 shots and defeated Toledo 4-2. Toivonen, a former NHL goaltender playing in three games in as many days, made 20 stops in the first period followed by 15 in the second, and 13 in the third.
Fort Wayne's Mike Embach scored the game-winner on a rebound off the post with 1:13 left in the game. The Walleye lost their 11th straight home game and third straight overall before a crowd of 4,783 at the Huntington Center.
"We want to play great in front of our fans," Toivonen said. "It's one of those things where you have to take pride in your home ice. That hasn't been the case lately. But they still come to support us. We have to make sure we give 100 percent … to give these great fans something to cheer about."
PHOTO GALLERY: Walleye fall to Fort Wayne
The Komets set a season high for shots on goal, and it was the most the Walleye have yielded.
"It makes it a lot easier to stay in the game when you see a lot of action," Toivonen said. "You don't have time to think. You just go and react. Physically it's a toll and it gets difficult at the end."
Toledo (18-37-4) scored once in the first and once in the third period.
The Walleye were swept during a three-game homestand, including back-to-back losses to Kalamazoo on Friday and Saturday.
"[Saturday] they packed the rink and we laid an egg for them," Toivonen said. "Today we battled hard but we came up short. It's not easy."
Forward Ryley Grantham scored his first goal in a Walleye uniform. Grantham, who was acquired in a trade from Evansville on Thursday, tied the game at 1 with 11:15 left in first period.
Toledo tied it at 2 with 10:54 left in regulation when Jesse Messier scored his second of the season on an assist from Maxim Shalunov.
Fort Wayne's Brandon Marino scored twice and Embach's game-winner came after Shawn Szydlowski hit the post with the initial shot and Embach poked in the loose puck.
Former Walleye player Aaron Clarke added an empty-netter with 56 seconds left.
Toivonen returned to the team from an American Hockey League call-up on March 7. The 29-year-old native of Finland has played in 61 NHL games. Toivonen (9-11-0) made his fifth straight start and made a season-high 48 saves.
"He was a world-class goaltender tonight," Walleye coach Dan Watson said. "He poked his head in the room after [Saturday night's game] and said he'd be better today. He lived up to that. He gives us an opportunity to win every night."
Toledo has not won a home game since Jan. 26.
"Maybe we need to get the buses to pick them up at the apartments before the game," Watson said. "We should be ready and they should want to play well because we have family and friends here. Maybe that is playing a part. They may be too fancy or flashy. There just has to be a work ethic and stick to the game plan."
Fort Wayne took a 1-0 lead 7:28 into the game as Marino was credited with a goal on shot that appeared to deflect off of Walleye defenseman Richard Nedomlel.
Grantham tallied his first point while playing in his third game for Toledo.
Marino scored his second of the game with two seconds left on a power play. Marino now has 75 points in 60 games. He has 25 goals and 50 assists.
Fort Wayne (28-21-11) is fighting for the playoffs. The Komets have 67 points, tied for the eighth and final berth in the Eastern Conference.
"They are fighting for their playoff lives and an opportunity to win a championship," Watson said. "Our guys are working for paychecks for next year. They outworked us the entire game. We have to find a way to play 60 minutes consistently. It's like a roller coaster out there. We play good for 10 minutes and then were bad for 10 minutes."
Toledo, which is in the midst of playing six straight home games, hosts Wheeling on Wednesday.
The Walleye play Gwinnett on Saturday and Sunday.
"It's too bad we couldn't come up with a win," Toivonen said. "We gave ourselves a chance in the third. They are a good team. Give them credit. But we have to find a way to turn these disappointing one-goal losses into one-goal wins. It stinks right now and doesn't feel good."
TEAM TRANSACTION: The team claimed F Kyle Bodie off of waivers from South Carolina on Sunday. Bodie appeared in 28 games with the Stingrays this season (four goals and six assists).
Guidelines: Please keep your comments smart and civil. Don't attack other readers personally, and keep your language decent. Comments that violate these standards, or our privacy statement or visitor's agreement, are subject to being removed and commenters are subject to being banned. To post comments, you must be a registered user on toledoblade.com. To find out more, please visit the FAQ.