Casual Pint a partnership built on beer
3/7/2018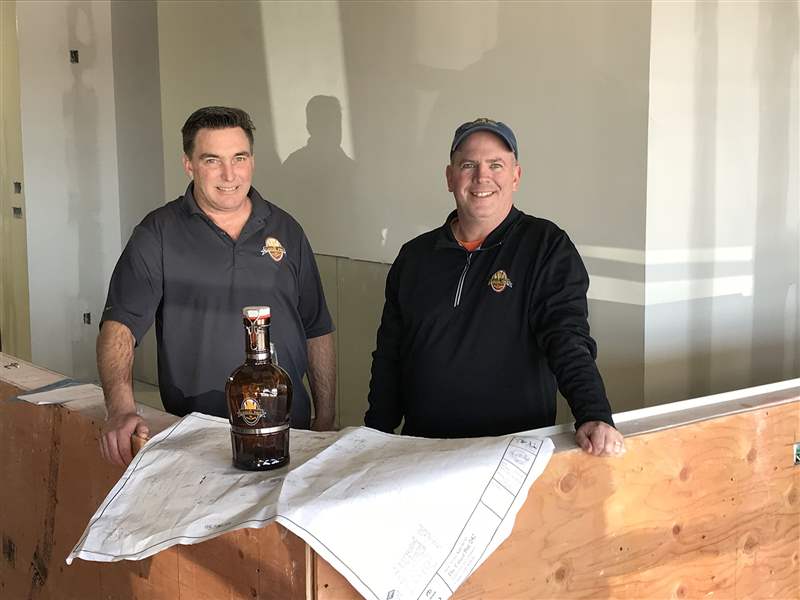 Owners of the soon-to-open Casual Pint franchise, Howard Schnabel, left, and Todd Momany, appear with a Casual Pint growler that can be filled when the craft been store/pub opens in the weeks ahead on Executive Parkway in Toledo.
THE BLADE/BRIAN DUGGER
Buy This Image
The business partnership between Todd Momany and Howard Schnabel is just another example of beer bringing people together.
Momany and Schnabel did not know each other, but shared an interest in starting a Casual Pint franchise, something that was made possible when their financial adviser connected them.
Now, their combination beer store and pub is just weeks away from opening at 3550 Executive Pkwy.
"We want to support our local brewers. This is about the only place where you will be able to try all the local beers," Momany said.
Casual Pint is a national chain with 26 franchises, but within months, more than 50 will be open. In Ohio, there is a Casual Pint in Youngstown, and there are three of the craft beer marketplaces in the Cincinnati area.
In Toledo, there will be 35 craft beer taps at Casual Pint, served by a staff of 10 beertenders, who will be trained to recommend styles of craft beer. Crowlers and growlers will be sold. Momany and Schnabel are hoping that all the local and regional beers will be available. Local brewers will also be able to sell their merchandise.
"We are going to have Meet the Brewer nights. For example, on a Tuesday, Earnest Brew Works may be here. They can sell their swag and people can get to know them," said Momany, who used to work in The Andersons' beer department. "Earnest has a great presence in the South End, but people may not know them as well in the West End. This will give them that chance."
There will be more than 300 beers from around the world that can be purchased. The beer can be enjoyed at Casual Pint or taken to go. The bar area will have 18 seats, but there will be couch and table seating, making the capacity about 100 people. A meeting room with a 75-inch TV will be available to rent. There will be a light bar food menu.
"I really like this Casual Pint concept. We're not a brewery, but we bring all the breweries together," Schnabel says. "Hopefully people will find something they like in here and they won't have to bounce from bar to bar."
There is no firm opening date, but doors should be open no later than the end of the month.
"It is so exciting. The response from the community has been fantastic," Momany said. "Everyone in Toledo seems to see that this is something Toledo needs."
Beer festival draws a crowd
The final numbers are being added up, but it looks like about 1,800 people attended the Glass City Beer Festival on March 2 at the Lucas County Recreation Center. Proceeds will go to Northwest Ohio Hemophilia Foundation and Camp Courageous/The Arc of NW Ohio. There were close to 50 breweries represented.
"The Glass City Beer Festival continues to bring in great crowds in spite of other beer festivals in the area. Granite City was a great addition for both VIP and for patrons who had general admission tickets. Breweries continue to bring great beers for the public to sample," event spokesman Cindy Michael said.
Next year's festival has been set for March 1.
St. Paddy's Day fun
The annual Toledo Area Soccer Association pub crawl will take place on St. Patrick's Day. Fifteen pubs in Toledo and Sylvania will be included in the event, which runs from 1 p.m. to 11 p.m. Tuesday.
For $30, participants can ride buses to participating bars throughout the day. The buses will be making stops at the bars every 20 to 30 minutes. Food and drink specials will be included in the price.
Go to toledosoccer.org for additional information and to purchase tickets.
Irish for the day
Earnest Brew Works will team up with the Toledo Irish American Club on March 13, for a St. Patrick's Day event at the brewery on Detroit Avenue.
Tickets for the party, which runs from 5 p.m. to 9 p.m., are $10 and are available on eventbrite.com.
There will be live music, Irish-themed brews and pizza, raffles, and merchandise available. There will also be a competition for the best dressed person in Irish attire.
Contact Brian Dugger at bdugger@theblade.com or on Twitter @DuggerBlade.