GOVERNMENT BUILDS UP STRENGTH
Nearly 100 Philippine rebels killed or captured
Manila tries to subdue rest of hostage takers
9/15/2013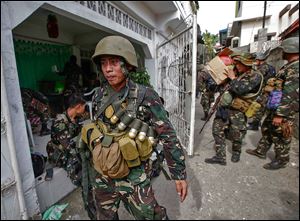 Soldiers arrive in Zamboanga in the south Philippines on Sunday with supplies for the offensive against Muslim insurgents. The fighting began a week ago.
ZAMBOANGA, Philippines — Philippine forces have killed or captured nearly 100 of the Muslim guerrillas who have held scores of hostages for a week in a southern city, officials said Sunday.
The government is pushing ahead with an offensive to retake rebel-held coastal communities.
Army troops and police special forces have regained some rebel-held areas and are pressing deeper into communities in the coastal outskirts of Zamboanga city, where more than 100 Moro National Liberation Front guerrillas are holding hostages, military Lt. Col. Ramon Zagala said.
Several hostages have escaped or were freed, but it was unclear how many were still in rebel custody.
Zamboanga Mayor Isabelle Climaco-Salazar said the rebels were still holding up to 40 hostages in one community alone.
Colonel Zagala said troops taking part in the offensive were calibrating their firepower to avoid harming civilians. "We're gaining ground. We're pushing forward," he said.
At least 51 rebels have been killed. Another 42 have been captured; most while trying to escape along the coast after discarding their camouflage uniforms for ordinary clothes, Interior Secretary Mar Roxas said. He added that the gunmen would face criminal charges. More than 67,000 residents have been displaced.
The bodies of two rebels, a man and a woman, were found Sunday by advancing troops.
Six policemen and soldiers and four villagers, have been killed. The standoff began Monday when troops foiled an attempt by the rebels to march into Zamboanga city and hoist their flag at the city hall.
The rebels arrived by boat from outlying islands. They barged into five coastal villages and took more than 100 hostages as human shields.
Army troops and police, backed by helicopters and navy gunboats, initially surrounded the rebels with their hostages while government officials tried to convince the insurgents to free their captives and surrender.
Government forces decided to attack Friday after the guerrillas started to set clusters of houses on fire and to shoot mortar rounds that wounded several Red Cross aid workers, Colonel Zagala said. Mr. Roxas said it is difficult to tell when the troops will end the standoff.
The crisis has virtually paralyzed Zamboanga city, a port city of nearly a million people.
Authorities closed its international airport, suspended sea ferry services, and shut down schools and offices.
One hospital evacuated 472 patients as clashes erupted nearby last week. On Sunday, it pleaded with the military to help them return to the hospital to retrieve ventilators, anesthesia machines, and other equipment.
The Moro insurgents, led by rebel leader Nur Misuari, signed a peace deal in 1996, but the guerrillas did not lay down their weapons and later accused the government of reneging on a promise to develop long-neglected Muslim regions in the south.
The nation is predominantly Roman Catholic.