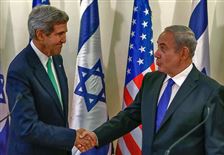 John Kerry, left, shakes hands with Israel's Prime Minister Benjamin Netanyahu Sunday in Jerusalem after speak-ing to the press.
ASSOCIATED PRESS Enlarge
JERUSALEM — Secretary of State John Kerry said Sunday that the United States will maintain its threat of unilateral military force against Syria to ensure the success of the plan to eliminate that country's chemical weapons arsenal.
"This will only be as effective as its implementation," Mr. Kerry said in a joint news conference with Israeli Prime Minister Benjamin Netanyahu. "The threat of force is real."
Mr. Kerry traveled to Jerusalem as the first stop in a series of meetings with allies to assure support for the chemical weapons deal, which was completed Saturday in Geneva.
After conferring with Mr. Netanyahu, Mr. Kerry left for Paris for another meeting with allies. Today he plans to meet with the foreign ministers of France, Britain, Turkey, and Saudi Arabia.
Mr. Netanyahu offered support for the plan, the first official sign of Israel's approval.
"We hope that the understandings reached between the U.S. and Russia on Syrian chemical weapons will yield results," Mr. Netanyahu said at an earlier ceremony. "Those understandings will be judged by the results — the total destruction of all the chemical weapon stocks that the Syrian regime used against its own citizens."
Both the prime minister and Mr. Kerry said the world's response to the chemical weapons attack last month near Damascus would serve as a message to Iran as the West prepared to resume talks with Tehran over its nuclear program.
Mr. Kerry emphasized on Sunday that the agreement reached with Russia was a "framework, not a final agreement," and still had to be put into effect through a U.N. Security Council resolution.
Under the Geneva pact, the terms of the accord are to be included in a resolution under Chapter 7 of the U.N. Charter, which would authorize punitive measures if Syria does not comply.
Russia is unlikely to allow a military strike among those options, but President Obama has said the United States remains prepared to launch a unilateral strike if Syria fails to meet its commitments.
In Damascus, Ali Haidar, Syrian minister of national reconciliation, called the U.S.-Russian agreement a "victory" for Syrian President Bashar Assad's regime.
The comments by Haidar to a Russian state news agency were the first by a senior Syrian government official on the deal.
Under the agreement, Syria will provide an inventory of its chemical arsenal within one week and hand over all of the components of its program by mid-2014.
"We welcome these agreements," Haidar was quoted as saying by the RIA Novosti agency. "On the one hand, they will help Syrians get out of the crisis, and on the other hand, they averted a war against Syria by removing the pretext for those who wanted to unleash one."
The United States accuses the Assad government of using poison gas against rebel-held suburbs of Damascus on Aug. 21, killing more than 1,400 people. Other death toll estimates are lower.
Syria denies the allegations and blames the rebels.
The suspected chemical attack raised the prospect of U.S.-led military action against Syria. But as the strikes appeared imminent, the Parliament of key U.S. ally Britain voted against military action and Mr. Obama decided to ask Congress for authorization first, delaying an armed response.
Russia then floated the idea of Syria relinquishing its chemical arsenal to avert Western strikes and the Assad regime quickly agreed.
On Saturday, Moscow and Washington struck a framework agreement to secure and destroy Syria's chemical stockpile.
In Washington, Republican lawmakers criticized the Obama Administration's diplomatic moves while Democrats focused on the outcome.
Senate Armed Services Committee Chairman Carl Levin (D., Mich.) said on CBS' Face the Nation that Mr. Obama's threat of force yielded results.
"It's no coincidence that after that threat was achieved and made — and after our Foreign Relations Committee, on a bipartisan basis, voted to authorize the use of force — that Russia finally decided it would put some pressure on Syria and get involved," Mr. Levin said.
"It is so important that the continuing threat be very readily available."
Sen. Roy Blunt (R., Mo.), also a member of the Armed Services Committee, suggested on NBC's Meet the Press that the administration had responded weakly to the alleged chemical attack by the Syrian regime.
"I think Assad would have said, 'Look, the Americans took their best shot at me ... and I'm still here,'" Mr. Blunt said. "I think Assad's a lot stronger today than he was two weeks ago."
Speaking on Meet the Press, Sen. John McCain (R., Ariz.) questioned Russia's intentions with the deal.
Senate Foreign Relations Committee Chairman Robert Menendez (D., N.J.) said the administration should keep the threat of force on the table as it tries to persuade the Syrian government to comply with the chemical weapons agreement.
Mr. Menendez also said the United States should "pursue Assad for war crimes."
Guidelines: Please keep your comments smart and civil. Don't attack other readers personally, and keep your language decent. Comments that violate these standards, or our privacy statement or visitor's agreement, are subject to being removed and commenters are subject to being banned. To post comments, you must be a registered user on toledoblade.com. To find out more, please visit the FAQ.