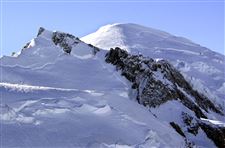 Mont Blanc, in addition to its primary peak, contains some 200 summits.
ASSOCIATED PRESS Enlarge
PARIS — Five climbers died and a sixth was missing Wednesday on France's Mont Blanc, officials said.
August is the height of the climbing season on Europe's tallest mountain, where even in the warmest months fierce snowstorms can strike quickly. Several mountaineers have died already this summer — including at least one experienced guide — and local officials say they fear many people come to Mont Blanc ill-prepared for the dangers.
The climbers disappeared overnight as they were trying to reach the Aiguille d'Argentiere, which tops out around 12,800 feet. Mont Blanc, in addition to its primary peak, contains some 200 summits.
The bodies of five climbers were located Wednesday, while a sixth has not been found, said Jean-Marc Peillex, mayor of Saint-Gervais, a town at the foot of Mont Blanc.
Search and rescue teams in helicopters are flying over the area.
Mont Blanc touches France, Switzerland and Italy, and thousands come each year to reach its summit.
Guidelines: Please keep your comments smart and civil. Don't attack other readers personally, and keep your language decent. Comments that violate these standards, or our privacy statement or visitor's agreement, are subject to being removed and commenters are subject to being banned. To post comments, you must be a registered user on toledoblade.com. To find out more, please visit the FAQ.