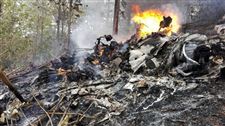 This photo released by Costa Rica's Civil Aviation press office shows the site of a plane crash in Punta Islita, Guanacaste, Costa Rica, Sunday. A government statement says there were 10 foreigners and two Costa Rican crew members aboard the plane belonging to Nature Air, which had taken off nearby.
ASSOCIATED PRESS Enlarge
SAN JOSE, Costa Rica — A plane carrying 10 U.S. citizens and two local crewmembers crashed in a wooded area, killing all aboard Sunday, Costa Rica's government said.
The Public Safety Ministry posted photographs and video of the crash site showing burning wreckage of the plane in Guanacaste, northwest Costa Rica.
Authorities said that so far they had only a list of passengers provided by the airline and were awaiting official confirmation of their identities.
At a news conference, Enio Cubillo, director of Costa Rica Civil Aviation, said the Nature Air charter flight took off just after noon Sunday from Punta Islita and was headed for the capital of San Jose when it crashed.
Cubillo said the cause was under investigation.
He identified the pilot as Juan Manuel Retana and described him as very experienced. Former Costa Rican President Laura Chinchilla said via Twitter that Retana was her cousin.
The same plane had arrived in Punta Islita on Sunday morning from San Jose and was delayed in landing by strong winds, Cubillo said.
Nature Air did not respond to phone and email messages.
Guidelines: Please keep your comments smart and civil. Don't attack other readers personally, and keep your language decent. Comments that violate these standards, or our privacy statement or visitor's agreement, are subject to being removed and commenters are subject to being banned. To post comments, you must be a registered user on toledoblade.com. To find out more, please visit the FAQ.