Simple lunch-time staple is helping feed Toledo's hungry
2/26/2018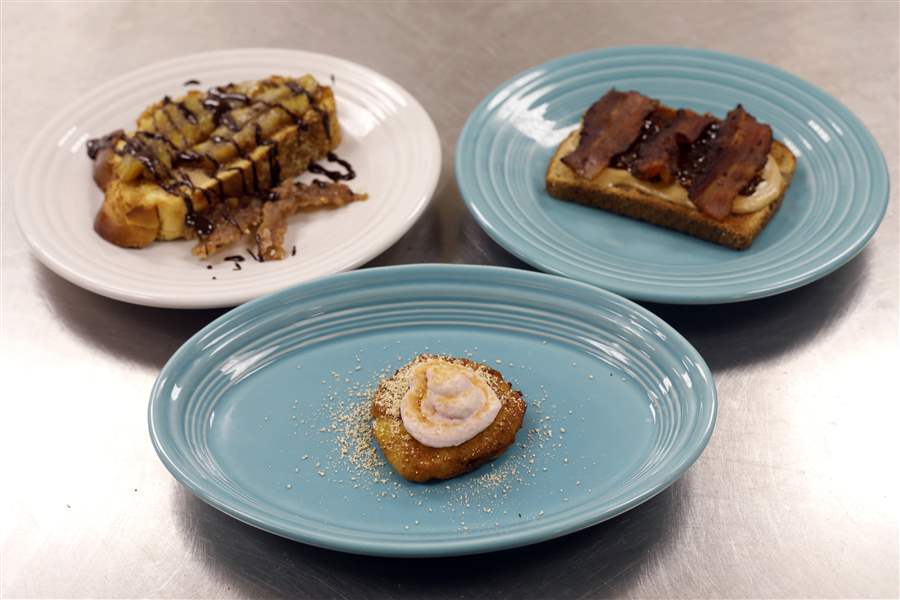 Clockwise from top left: Bananas Foster on top of salted caramel peanut butter with dark chocolate drizzle, a slice of reimagined Devils on Horseback featuring all-natural peanut butter and fig jam with thick-cut pepper bacon, and deep fried Brioche with peanut butter cream cheese filling, strawberry mousse and peanut butter dust.
The Blade/Katie Rausch
Buy This Image
March 1 is National Peanut Butter Lover's Day, an occasion for celebration. Frankly, many of us don't even need a special day to celebrate it. Our affection for peanut butter is timeless, ageless, and boundless.
It's hard to think of a group that embraces peanut butter as much as Food For Thought does. This organization, which makes peanut butter and jelly sandwiches every Friday night to distribute throughout the downtown area on Saturday mornings, goes through an average of 25 jars of it each week.
Volunteer coordinator Laura Shaffer said people who come to the group's office at Trinity Episcopal Church on Fridays make an average of 250 to 300 sandwiches to put into lunch bags, which also include fruit and a snack. She said the pb&j-making is such a hit that they get at least 50 helpers each week of all ages. (Ms. Shaffer is currently scheduling groups into June and is encouraging those who want to join Food for Thought's efforts to either donate supplies or come to distribute the sandwiches at 10 a.m. Saturday mornings so they can "meet the folks we're making these for." Call 419-972-0022 or go to feedtoledo.org for more information.)
To further assist those in Toledo who are hungry — nearly 20 percent of Lucas County's population is food insecure, according to the Toledo Northwestern Ohio Food Bank — Food For Thought also has mobile pantries that deliver to nine sites. These provide both fresh and non-perishable groceries, and patrons are welcome to shop for the items they want and need.
"Food for Thought, to me, is this wonderful combination of intentional services," said Ms. Shaffer. It fosters creativity, and "we encourage the fun" of caring for the community, she said.
To that end, the organization is holding its annual fund-raiser: March Is Hungry.
At the holidays, there's always a surge of generosity for charities that provide food for those in need. But the festivities end, the credit card bills start coming in, and the donations start to taper off.
But people are still hungry in March, as they are throughout the year. So Food for Thought is encouraging social fund-raisers to help support its work: Throw a party, invite your friends, and together you can help to feed the community.
Go to marchishungry.com to sign up as a host, to join a themed gathering at Food For Thought, or to become a Friday night sandwich-making sponsor. You'll receive party planning ideas (including favors to distribute) and information to share with your guests about the organization's good work.
To promote the fund-raising effort, and in honor of National Peanut Butter Lover's Day, Ms. Shaffer, a former chocolatier and an enthusiastic amateur chef, shared three creative takes on the classic pb&j that are "sort of old school meets new school," she said. One features bacon and figs, the next offers rum and chocolate to complement bananas, and the third serves up a filled french toast topped with strawberry mousse.
Just as our love of peanut butter is a constant, so is the need to provide food for those who don't have enough to eat.
March is hungry. But you can help Food For Thought's efforts to alleviate that.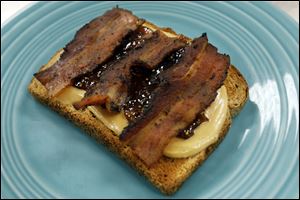 Pictured is a reimagined Devils on Horseback featuring all-natural peanut butter and fig jam with thick-cut pepper bacon.
Devils on Horseback
'I updated this old British recipe for the modern era by swapping out prunes for fig jam and adding natural creamy peanut butter," said Laura Shaffer, Food For Thought's volunteer coordinator.
3 to 4 slices thick cut black pepper bacon
Creamy natural peanut butter
2 slices whole wheat bread, toasted
Fig jam
Fry bacon to desired crispness and pat off excess oil with a paper towel.
Spread a layer of peanut butter on one slice of bread and fig jam on the other. Sandwich bacon between slices of bread and enjoy!
Yield: 1 serving
Source: Laura Shaffer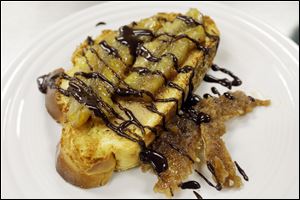 Pictured is Bananas Foster on top of salted caramel peanut butter with dark chocolate drizzle.
Bananas Foster
"This updated classic is great for brunch," Laura Shaffer said. "Salted caramel peanut butter and a dark chocolate drizzle help even out the intense sweetness of the bananas. Since it has fruit in it, you can almost tell yourself it's healthy."
SALTED CARAMEL PEANUT BUTTER:
4 tablespoons creamy peanut butter
4 tablespoons salted caramel sauce (see note)
BANANAS (adapted from emerils.com):
4 tablespoons unsalted butter
¾ cup packed light brown sugar
½ teaspoon ground cinnamon
Pinch ground nutmeg
4 ripe bananas, peeled and cut lengthwise into halves
½ cup dark rum
DARK CHOCOLATE DRIZZLE:
¼ cup water
¼ cup sugar
3 ounces dark chocolate
1 tablespoon butter, diced into pieces
4 tablespoons heavy cream
SANDWICH:
4 thick slices of challah bread, toasted
Prepare the peanut butter: Combine the peanut butter and salted caramel sauce in a small saucepan and heat until slightly warmed and mixed together.
Prepare the bananas: Melt the butter in a large skillet over medium heat. Add the brown sugar, cinnamon, and nutmeg and cook, stirring, until the sugar dissolves, about 2 minutes.
Add the bananas and cook on both sides until the bananas start to soften and brown, about 3 minutes.
Carefully add the rum and shake the pan back and forth to warm the rum and flame the pan. (Or, off the heat, carefully ignite the pan with a match.) Shake the pan back and forth, basting the bananas, until the flame dies. If you are afraid of burning your kitchen down, don't worry about flaming the pan; just cook a little bit longer to reduce the amount of rum.
Prepare the chocolate: Mix together the water and sugar in a small sauce pan over low heat until sugar is dissolved.
Pour sugar syrup into a double boiler and add dark chocolate and butter. Whisk until the chocolate is melted and mixture is smooth. Add the cream to the mixture. Stir until smooth.
Prepare the sandwich: Spread two tablespoons of the salted caramel peanut butter on each slice of challah. Place two slices of the prepared bananas over the peanut butter. Drizzle with warm dark chocolate and serve immediately.
Note: Ms. Shaffer used Bobby Flay's recipe for salted caramel: Combine 1 cup sugar and 1/4 cup cold water in a medium saucepan over high heat. Cook, without stirring or touching, until the sugar turns a deep amber color, 8 to 10 minutes.
Meanwhile, warm 1/2 cup cream in a small saucepan or in the microwave. When the caramel is ready, slowly whisk in the cream and continue simmering until the mixture is smooth, about 2 minutes. Remove from the heat and stir in 2 tablespoons butter and 3/4 teaspoon coarse sea salt until combined.
Yield: 4 servings
Source: Adapted from Laura Shaffer
Rearranged Peanut Butter and Jelly
"Peanut butter dust gives [this dessert] a modern feel," said Laura Shaffer. "You can find it at any large grocery store with the regular peanut butter."
MOUSSE (from Cook's Illustrated):
2 pounds strawberries, hulled (6½ cups)
½ cup (3½ ounces) sugar
Pinch salt
1¾ teaspoons unflavored gelatin
4 ounces cream cheese, cut into 8 pieces and softened
½ cup heavy cream, chilled
FILLING:
2 ounces softened cream cheese
1 tablespoon powdered sugar
1 tablespoon PB2 powdered peanut butter
EGG-MILK DIP:
2 eggs
1 cup half-and-half
1 teaspoon sugar
¼ teaspoon vanilla extract
ASSEMBLY:
8 slices of brioche (see note)
PB2 powdered peanut butter, for garnish
Prepare the mousse: Cut enough strawberries into 1/4-inch dice to measure 1 cup; refrigerate until ready to garnish. Pulse remaining strawberries in food processor in two batches until most pieces are 1/4 to 1/2-inch thick (some larger pieces are fine), 6 to 10 pulses. Transfer strawberries to bowl and toss with 1/4 cup sugar and salt. (Do not clean processor.) Cover bowl and let strawberries stand for 45 minutes, stirring occasionally.
Strain processed strawberries through fine-mesh strainer into bowl (you should have about 2/3 cup juice). Measure out 3 tablespoons juice into small bowl, sprinkle gelatin over juice, and let sit until gelatin softens, about 5 minutes. Place remaining juice in small saucepan and cook over medium-high heat until reduced to 3 tablespoons, about 10 minutes. Remove pan from heat, add softened gelatin mixture, and stir until gelatin has dissolved. Add cream cheese and whisk until smooth. Transfer mixture to large bowl.
While juice is reducing, return strawberries to now-empty processor and process until smooth, 15 to 20 seconds. Strain puree through fine-mesh strainer into medium bowl, pressing on solids to remove seeds and pulp (you should have about 1 2/3 cups puree). Discard any solids in strainer. Add strawberry puree to juice-gelatin mixture and whisk until incorporated.
Using stand mixer fitted with whisk, whip cream on medium-low speed until foamy, about 1 minute. Increase speed to high and whip until soft peaks form, 1 to 3 minutes. Gradually add remaining 1/4 cup sugar and whip until stiff peaks form, 1 to 2 minutes. Whisk whipped cream into strawberry mixture until no white streaks remain. Chill for at least 4 hours or up to 48 hours. (If chilled longer than 6 hours, let mousse sit at room temperature for 15 minutes before serving.)
Prepare the filling: Mix all ingredients together until smooth.
Prepare the egg-milk dip: Mix all ingredients together until smooth.
Prepare the sandwiches: Fill a large skillet with 1 inch of oil and heat over moderate heat.
Place two tablespoons of peanut butter filling in the center of one slice of brioche. Place another slice on top and press around the edges, sealing them well.
Dip the brioche in the egg-milk mixture and fry in the heated oil until golden and crispy, around 2 minutes per side. Remove from the oil and place on paper towels to drain. Repeat with remaining brioche slices and filling.
Once all four sandwiches are fried, spoon strawberry mousse onto the top of each brioche sandwich, top with powdered peanut butter, and serve immediately.
Note: Ms. Shaffer used vanilla brioche from Aldi.
Yield: 4 servings
Source: Adapted from Laura Shaffer
Contact Mary Bilyeu at mbilyeu@theblade.com, and follow her at facebook.com/​thebladefoodpage, bladefoodpage on Instagram, or @BladeFoodPage on Twitter.