Lambertville church play borrows from 'Screwtape Letters'
12/15/2017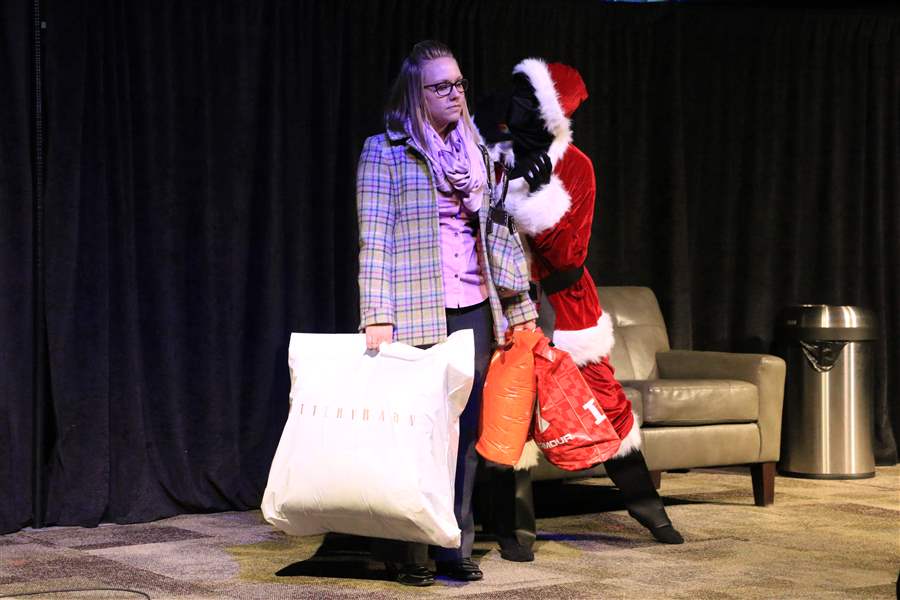 Lacey Brown, in the checkered coat, left, is named Heather Freeman, and Kenna Blackburn in the Santa suit is playing Screwtape in "A Screw'd Up Christmas" at Wyldwood Baptist Church. Not blade photo
Step aside, shepherds, angels, and wise men. This cast list is calling for something more sinister.
"I'm still trying to deal with a demon as the main character," Pastor Brett Bartlett, of Wyldewood Baptist Church, said with a laugh.
But stay with him: There's a reason he wrote A Screw'd Up Christmas that way.
The script is inspired by C.S. Lewis' The Screwtape Letters, the epistolary classic that follows the namesake demon Screwtape as he instructs his lesser-ranking nephew, Wormwood, on how to lead astray a human character they identify as "the Patient." It's a premise that the pastor has been thinking would make for a great play ever since he read it a decade ago.
"I just hoped someone else would do it," he said. "I'd never written a play, so I wasn't thinking I would."
That "someone," of course, never seemed to show up. So it's a reluctant — and admittedly novice — playwright who finds himself guiding a cast of about 16 church members through rehearsals for what he described as a more ambitious production than the simple skit or pageant-style plays that the church community typically puts on during the holidays.
A Screw'd Up Christmas will be staged at 6 p.m. Sunday and 3 p.m. Dec. 24 at Wyldwood Baptist Church, 7947 Douglas Rd., Lambertville, Mich. Admission is free.
The Screwtape Letters is not a Christmas-y work, and, originally, Pastor Bartlett said he explored a holiday interpretation only with an eye toward its eventual production at the church. But as he began to write the script, he said, the season began to present itself as a convenient vehicle to explore the ways that materialism, financial anxiety, and other factors could influence a set of characters.
Screwtape, who the pastor said in this interpretation takes on an almost Gomer Pyle-like affectation, is at work fueling those factors throughout the play.
"There's an unseen battle going on, between the kingdom of darkness and the kingdom of light," Pastor Bartlett said, offering a tagline of sorts. "Will the true meaning of Christmas overcome in the end?"
If that plotline sounds a bit off to fans of C.S. Lewis, a prominent author in Christian circles who also penned the children's Narnia series, Pastor Bartlett isn't surprised.
"All I really did was borrow the idea," he said.
The cast ranges in age from 12 to 75, and they've been rehearsing since September. They, like their director, bring limited stage experience to the production.
Kim Bartlett, who is Pastor Bartlett's wife and who portrays a housewife dealing with a strained relationship in the play, described a few high school roles, for example. Another cast member, Seth Setzler, is a veteran of childhood church pageants; he's performed as "everyone from baby Jesus to a shepherd to a disciple."
Mr. Setzler and his wife, Carrie, portray an engaged couple, Travis Hopkins and Kate Plimpton, two of several human characters whom Screwtape attempts to lead astray.
Mr. Seltzer said he thinks the unorthodox approach to a Christmas play is a good way to pique interest.
"A lot of times, when we say our church is putting on a Christmas play, most everyone would think, Mary, Joseph, baby Jesus in the manger. Then when you start to dive into it, it's not like that at all."
"No one would ever associate Christmas with demons," he said.
Contact Nicki Gorny at ngorny@theblade.com or 419-724-6133.