PEACH WEEKENDER | THEARER
'Chitty Chitty Bang Bang' a family affair
10/31/2018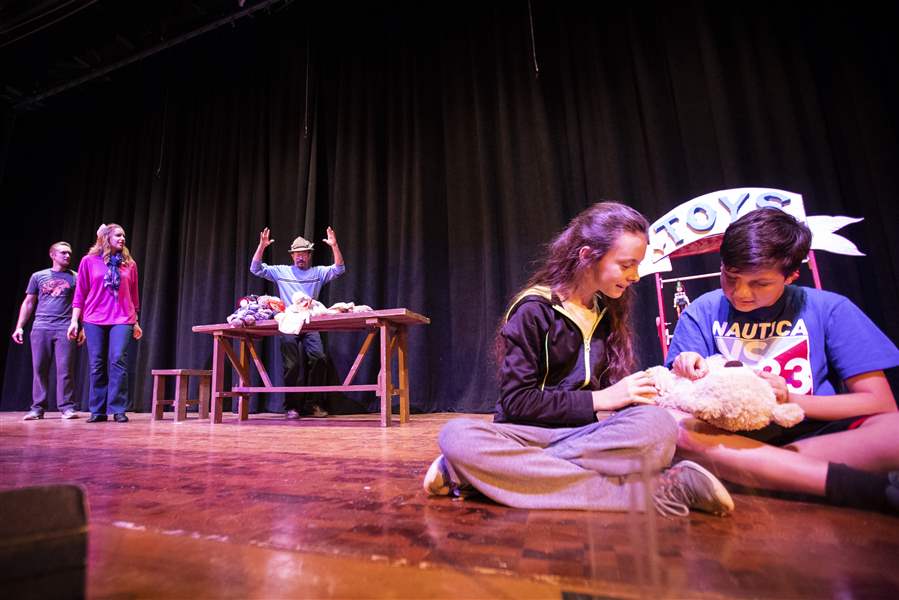 Elisia Ackerman as Jemima and Theldore Porter as Jeremy rehearse a scene from the musical 'Chitty Chitty Bang Bang.'
The Blade/Rebecca Benson
Buy This Image
Oregon Community Theatre will present Chitty Chitty Bang Bang, the hit musical inspired by the 1968 film starring Dick Van Dyke, beginning Friday.
The production follows an unconventional inventor, Caractacus Potts, who decides to restore an old race car he found in a scrap heap. And his children, Jeremy and Jemima, are there to help. As it turns out, the car can fly! Unfortunately, an evil baron wants the car, too. Coming to the rescue is Grandpa Potts.
The musical, which opened on Broadway in 2005, hasn't lost its power to captivate young and old, and Oregon's director, Amy Spaulding-Heuring, said it's because it really is quite magical.
"You've got a flying car, and the fact that a father and grandfather are raising two children — that's really a special story, and it's very relatable for nontraditional families and others.
"I think the music has a lot to do with it as well," she said. "It's very fun and hum-able."
What appeals to her is the charming story.
"I love the fact that the family is sort of eccentric and so loving and so empathetic with each other," she said. "And I like the idea they have such imagination and believe you can do anything and be anything, and create anything if you believe hard enough; it's an amazing message."
The show is really all about family, and Spaulding-Heuring said the Oregon production has a lot of families who are part of the show, including herself — she is directing, and her husband, Paul Heuring, is in the ensemble. Also participating are the Ackermans and the Strongs,and Reed Reamsnyder. Ann Sommers, the stage manager, and her mother are doing the costumes together, and Renee Harrington is in the show while her husband, Kevin, is doing the lighting.
Performances of Chitty Chitty Bang Bang are at 7:30 p.m. Friday and Saturday and Nov. 9 -10 and 3 p.m. Sunday in Fassett Middle School auditorium, 3025 Starr Ave. Tickets — $17 general admission, $14 seniors 60 and older and students 18 to 13, and $10 for children 12 and younger — are available at oregoncommunitytheatre.org, by leaving your name and phone number at 419-691-1398, or at the ticket booth any night of the show.
'Dial M'
Tree City Playhouse opens its 2018-19 season with Frederick Knott's Dial M for Murder, a hit on Broadway in 1952 and a successful film in 1954 that starred Ray Milland and Grace Kelly.
Jennifer Wegman and Keith Ramsdell are directing the production.
"We're pleased to be able to bring this classic thriller to life as we open our third season in partnership with the Sylvania Community Arts Commission," said Ramsdell, who also serves as artistic director.
The story centers on Tony Wendice, who married his wife for her money and now plans to murder her for it. But things don't go according to plans.
Performances are at 7:30 p.m. Friday and Saturday and at 3 p.m. Sunday at 3 p.m. at Church 3TwentyOne, 5845 Centennial Rd., Sylvania. Tickets are $12 general admission and $10 for seniors and students at sylvaniaarts.org, from 419-517-0118, or at the door.
Play returns
Dramatically Inspired Works will present its production of F.A.C.E.S. (Faith Always Conquers Every Storm) at 2 and 7 p.m. Saturday at the Franciscan Center of Lourdes University, 6832 Convent Blvd., Sylvania
The story centers on Bethany, who gives encouragement and advice, but is it genuine? Her sister Delilah keeps the family grounded. The play is written and directed by Denise Gaston.
Special guests include Steve Allen of the Rance Allen Group and Pamela Martin, a Detroit psalmist. Performers include Sheila Daniel Bell and Shanda Barnhill. Arielle Campbell Johnson is music director, and Thelaisha Cathcart is stage manager.
Tickets are $20 in advance from Jack's Men's Wear, 3414 Dorr St., $25 at the door, and $35 for VIP seating at the evening show.