41.47477
-84.55245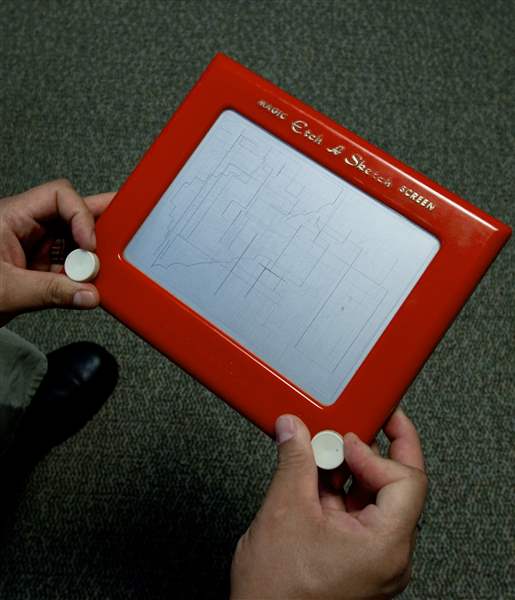 Bryan company's stock jumps after comment from Romney camp.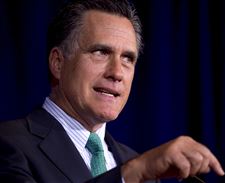 Republican presidential candidate Mitt Romney
ASSOCIATED PRESS Enlarge
BRYAN -- Ohio Art Co.'s financial stock zoomed up and Mitt Romney's political stock went down after a campaign strategist invoked the Bryan-based toy company's product, Etch A Sketch, to describe his plans for winning the election.
Romney aide Eric Fehrnstrom was asked on CNN Wednesday whether Mr. Romney had tacked too far to the right during the primary race to appeal to conservative voters in the general election.
"Well, I think you hit a reset button for the fall campaign. Everything changes. It's almost like an Etch A Sketch. You can kind of shake it up and we start all over again," Mr. Fehrnstrom said.
The exposure thrust the 52-year-old toy into a spotlight not seen since its likeness was prominently featured in Disney's ToyStory animated film in 1995.
"We've been overwhelmed by media requests for comments and interviews," said Bill Killgallon, chairman of the company's board of directors. "Instead of managing our business, right now we're managing requests for comments."
He said early reports from larger retailers showed a "blip" in Etch A Sketch sales.
Bob Friedland, a spokesman for Toys R Us, said sales increased across the country.
Shares of Ohio Art stock took a huge jump Thursday morning, shooting to a 52-week high of $12.50 from $4. The price eventually settled at $9.65. The company has fewer than 900,000 shares outstanding and is traded over the counter.
Ohio Art paid $25,000 for the rights to what would become the Etch A Sketch in the late 1950s, and the first model rolled off the line in Bryan in 1960. Since then, more than 150 million have been sold. Ohio Art moved production to China in 2000.
Mr. Killgallon said he voted in the Republican primary but declined to say for whom he cast his vote. He regularly donates money to Republican candidates, according to the Federal Elections Commission, but he has no donations on file in the GOP presidential contest so far this year.
"We're sort of skeptical of doing that," he said when asked if officials planned to reach out to representatives from any of the campaigns. "We are trying to remain as neutral as possible during this period of time."
Martin Killgallon, the company's marketing director, said he's been asked whether Etch A Sketch leans toward Democrats or Republicans.
"Etch A Sketch has right and left-hand knobs," he said. "We speak to both parties. And together we can draw circles."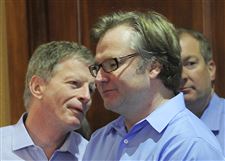 Romney aide Eric Fehrnstrom likened his candidate's campaign to an Etch A Sketch in an interview with CNN.
GETTY IMAGES Enlarge
He said he thinks Mr. Fehrnstrom was trying to say that a politician uses different strategy and tactics depending on whether he's competing within his own party or against the opposite party.
"I don't know what he meant; I'm just assuming. If that's what he meant, I agree. You have to change your tactics when you're debating against the other party."
Bill Killgallon quipped that the company was proud of its introduction to the political arena and that officials "hope it can be a symbol of bringing us together so we can shake up the political debate and really erase our differences."
He said the company would like to use the opportunity to have an impact on the presidential election to address the country's domestic issues. Much of their day Thursday was spent strategizing internally and with outside advisers on how to make that happen.
"If we can sell more Etch A Sketch because of this, that would be a benefit to the company, but I know we're looking at the country first," Mr. Killgallon said.
Mr. Romney's opponents quickly leaped on the metaphor as a revelation of what he and others have claimed all along, that Mr. Romney does not have strong conservative convictions.
Rick Santorum, Mr. Romney's closest competitor, bought a bunch of the children's toys at a store in Louisiana to distribute. He was pictured smilingly playing with an Etch A Sketch.
"You're not looking for someone who is the Etch A Sketch candidate," Mr. Santorum said Wednesday. "You are looking for someone who writes what they believe in stone and stays true to what they say."
The Romney campaign insisted the quote referred to organizational structure and that Mr. Romney would not change his positions on the issues.
The Democratic National Committee put out a video on YouTube portraying Mr. Romney in grainy black and white, like an image on Etch A Sketch, saying he'll never be able to "shake off" the conservative positions he's adopted appealing to the Republican base.
Ohio Democratic Chairman Chris Redfern said, "It is a good metaphor, the shaking of the Etch A Sketch, as if the last several months just go away. Mitt Romney knows he has got problems with independents. He knows that every step of the way he's on the wrong side of issues with that very important group of voters."
Ohio Attorney General Mike DeWine, who was a Santorum supporter leading up to the March 6 primary election, said, "It just reinforces conservatives' concern about Romney and if he really believes what he says."
He said the comment from Mr. Fehrnstrom was completely "gratuitous."
"It was not something he had to say, he went out of his way to say it, and when people say something like that it sounds like it has some truth to it," Mr. DeWine said.
Secretary of State Jon Husted, who grew up in Williams County, said the Etch A Sketch news of this week will be good for business in his home county but said the state of the economy, not a comment about a toy, will decide who wins the election.
"None of these weekly cable-driven topics are going to matter when you get to November," he said.
GOP presidential candidate Rick Santorum holds an Etch A Sketch at a campaign stop in San Antonio. Mr. Santorum, Mitt Romney's closest competitor, bought several of the children's toys at a store in Louisiana.
ASSOCIATED PRESS Enlarge
Getting to November just got a little more difficult for Mr. Romney, said two Ohio-based political science professors.
Melissa Miller, associate professor of political science at Bowling Green State University, said candidates of both parties have to change their messages to switch from the primary to the general campaign but to come out and say it so bluntly was "a huge error in judgment."
She said it will just encourage Mr. Santorum and Newt Gingrich to stay in the race and try to prevent Mr. Romney from sewing up the nomination before the convention.
"This incident on CNN feeds directly into this narrative that he's a flip-flopper. I think this gives them a reason to continue, and I think it will in a very short term fire up the conservative base," she said.
David Cohen, a fellow of the Ray C. Bliss Institute of Applied Politics at the University of Akron, said he thinks the comment will do damage because it will be taken by conservatives as a revelation from within the Romney campaign.
"He had been making a fairly good case lately of trying to convince them to vote for him, and I think he had been making inroads in showing he was conservative enough. But what the Etch A Sketch comments would seem to validate in the mind of many conservatives is that he was simply moving to the right for political expediency," Mr. Cohen said.
Information from The Blade's news services was used in this report.
Contact Tom Troy at: tomtroy@theblade.com or 419-724-6058.
Guidelines: Please keep your comments smart and civil. Don't attack other readers personally, and keep your language decent. Comments that violate these standards, or our privacy statement or visitor's agreement, are subject to being removed and commenters are subject to being banned. To post comments, you must be a registered user on toledoblade.com. To find out more, please visit the FAQ.