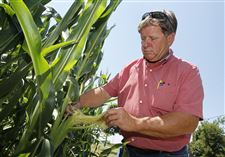 Kevin Fox with his corn crop near Graytown. Nearly the entire corn belt has been dry and hot of late, weather that devastates corn crops — especially this time of year when many plants are pollinating. More than half of Ohio is under some level of drought, according to the most recent U.S. Drought Monitor.
The Blade/Dave Zapotosky
Enlarge | Buy This Image
Two months ago, good weather and an early start to planting gave farmers measured optimism that this year could be one of the best ever for their corn crops.
How quickly things can change.
A prolonged dry spell coupled with record-setting heat has withered corn stalks, and many farmers are staring down droughts that are the worst in more than 20 years.
"Things are dire," said Matt Roberts, an agricultural economist with Ohio State University. "Ohio is not quite as bad as, say, Indiana, but it's bad.
"You can drive around the state, and there are some really ugly-looking fields."
More than half of Ohio is under some level of drought, according to the most recent U.S. Drought Monitor. Moderate drought is being reported in all of Lucas, Wood, Fulton, and Ottawa counties, and the situation is even worse west of Toledo. All of Defiance County and much of Henry, Paulding, and Williams counties are under severe drought.
Bruce Clevenger, the Ohio State University Extension educator for Defiance County, said local conditions are now worse than the drought of 1988 and there's no relief in sight.
"I don't see that improving at all," Mr. Clevenger said Monday. "I see it getting worse. The forecast, the dry soil conditions, the crop development. I don't see any improvement in that [drought] map and wouldn't be surprised if we slide into that extreme drought that we're seeing in northern Indiana."
Mr. Clevenger said local farmers are finding cracks as deep as 28 inches in their fields.
Nearly the entire corn belt has been bone-dry and Hades hot of late, weather that devastates corn crops — especially this time of year when many plants are pollinating.
The U.S. Department of Agriculture reported Monday that 36 percent of Ohio's corn crop was poor or very poor, up from 26 percent last week. Still, Ohio ranked better than neighboring Michigan and Indiana. The USDA said 41 percent of Michigan's crop and 61 percent of Indiana's crop was poor or very poor.
In response, yield projections have tumbled, and prices have soared about $2.30 a bushel since mid-June, Mr. Roberts said. Monday, corn futures rose well above $7 a bushel.
While temperatures this week should give crops a break, the long-term forecast for July still calls for higher than normal temperatures and less than normal precipitation.
"We desperately need some rain," Ottawa county farmer Kevin Fox said, likening hot winds last week to a blast furnace beating on his crop.
"Our corn is in important stages of pollination, and the cool temperatures will definitely help that part. The rest of the story is we're very fortunate in this area to have as nice a looking crop as we have compared to the rest of the state and country."
Mr. Fox, who also farms land in Lucas County, is one of the luckier growers this year. "We still have some potential. It's not over for us yet on our corn crop. Some parts of the country, it is over for them and that's not good," he said.
Mr. Clevenger said many Defiance County farmers are looking at losing 50 percent of their expected yields, with some facing 75 percent losses.
"It can make a man really get choked up," he said glumly.
Most farmers do carry some form of crop insurance, but insurance typically covers only 65 to 85 percent of the value of their crops, just enough to keep them from losing everything that year.
Soybeans, which also are faring poorly in Ohio and many other Midwestern states, have time to recover.
For corn, much of the damage is done. Even a return to milder temperatures and above-normal rain is unlikely to reverse the damage.
"We won't get out of this drought," said Chris Hurt an agricultural economist at Purdue University. "We're kind of locked in through the rest of the growing season through September."
Mr. Hurt said rainfall in Indiana since April 1 is between 5 and 10 inches behind.
Paul Herringshaw, a farmer from the Bowling Green area, is as optimistic as he can be given the harsh weather dealt out this year, noting that by comparison, Wood and Lucas counties have been somewhat fortunate. Right now, yields look OK. But he conceded that fields can't go much longer without a good rain.
"At this point, maybe we've taken the top off but we're still at decent yields," he said. "If we don't start getting rain in the next 10 to 14 days, things are really going to start hurting for us too."
A silver lining for farmers is that when a large enough area of the country suffers through a poor growing season, higher prices typically help offset lower yields. However, Mr. Hurt noted that doesn't minimize the significant financial stress for many individual farmers.
The stress likely will be felt by consumers too. Higher grain prices mean higher food prices, especially for meat. The USDA forecast food prices to rise 2.5 percent to 3.5 percent this year. Mr. Hurt said the increase will be on the upper range of that.
Farmers' struggles are also likely to hurt rural communities where agriculture is the biggest business.
"We look at the economy in our area, it has been really supported in the last several years by agriculture," Mr. Clevenger said. "The national economy has had its challenges. Production agriculture has been holding up many of our rural communities. And it's not going to be able to hold it up as well in 2012. There's not going to be money flowing into rural communities, because we don't have the crops to sell."
Contact Tyrel Linkhorn at: tlinkhorn@theblade.com or 419-724-6134.
Guidelines: Please keep your comments smart and civil. Don't attack other readers personally, and keep your language decent. Comments that violate these standards, or our privacy statement or visitor's agreement, are subject to being removed and commenters are subject to being banned. To post comments, you must be a registered user on toledoblade.com. To find out more, please visit the FAQ.