Home
→
Business
Lunch time: Mobile cuisine drives into Maumee
Workers and visitors to Maumee's Arrowhead Park area will soon see some new lunchtime dining options. The business park, heavily populated with restaurants, will add food trucks this week. Every Wednesday, about half a dozen food trucks will gather in the parking lot at the United Auto Workers Region 2B headquarters, 1691 Woodland Dr., for Arrowhead Park Picnic.
---
Business
Restaurant inspections 5-25
Inspection reports of Lucas County food-service operations.
Movies
'Tomorrowland' leads slow weekend
Will take in about $41.7 million during holiday weekend.
Business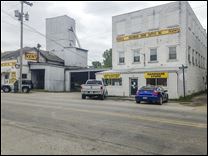 Hard times spark wistful closing
Beloved Temperance hardware store opened in the early 1930s.
---
More Business→

---
---
Around the Web
Loading Videos....
Marilou Johanek
Apple Watch is really a shackle
People have become unthinking automatons.