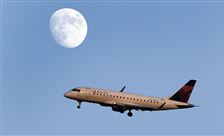 Airlines have dropped unprofitable routes, merged, packed in more passengers, and tacked on fees for baggage, leg room, meals, and even the use of blankets and headphones.
ASSOCIATED PRESS Enlarge
NEW YORK — The price to board an airliner in the United States has risen for the fourth straight year, making it more expensive to fly almost anywhere.
The average domestic roundtrip ticket, including tax, reached $363.42 last year, up more than $7 from the prior year, according to an Associated Press analysis of data collected from millions of flights nationwide.
The 2 percent increase outpaced inflation, which stood at 1.5 percent.
Airfares have risen nearly 12 percent since their low in 2009, when adjusted for inflation, the analysis showed.
Ticket prices have increased as airlines eliminated unprofitable routes, packed more passengers into planes, and merged with one another, giving travelers fewer options.
Today, 84 percent of seats are filled with paying passengers, up from 82 percent in 2009.
"Anyone traveling today will know that those flights are full," said Chuck Thackston of the Airlines Reporting Corp., which processes transactions for airlines and more than 9,400 travel agencies, including Expedia and Orbitz. "Just through supply and demand, those fares will go up."
And none of this factors in the extra fees travelers face for checking bags, getting extra legroom, or purchasing a blanket, meal, or headphones. The typical traveler pays an extra $50 roundtrip to check a single suitcase.
Those fees, introduced in 2008 to offset rising fuel prices, now bring in $3.4 billion a year for U.S. airlines and have helped them return consistent annual profits for the last four years.
Airlines pay just more than $3 a gallon for jet fuel, up from $1.89 in 2009. Another $2.7 billion a year is collected in reservation-change fees, with airlines charging up to $200 to revise an itinerary.
Jean Medina, spokesman for Airlines for America, the airlines' trade and lobbying group, said over the long-term fares have not climbed as fast as inflation.
"Carriers continue to invest in their products with new planes, new services, and new destinations," she said. "It's a great time to fly."
Higher fares did not mean better passenger service last year.
During the first 11 months of last year, 19 percent of flights failed to arrive within 15 minutes of their scheduled time. That's up from 16 percent during the same period in 2012, according to the Bureau of Transportation Statistics.
The number of flights canceled in those 11 months also jumped nearly 15 percent to 81,265.
Guidelines: Please keep your comments smart and civil. Don't attack other readers personally, and keep your language decent. Comments that violate these standards, or our privacy statement or visitor's agreement, are subject to being removed and commenters are subject to being banned. To post comments, you must be a registered user on toledoblade.com. To find out more, please visit the FAQ.