Home
→
Business
Metro Toledo, Ohio cited for robust growth
The state of Ohio and metro Toledo in particular have been recognized by Site Selection magazine as being among the nation's most robust environments for economic development. The magazine said Ohio had 582 capital investment projects last year, trailing only Texas, which had 689 projects.
---
Business
Bankruptcy filings flat in February
So far in 2015, 488 cases were filed, down 5 percent from 2014.
Business
Obscure stock pick makes ChaseSS #1
Students gain 7.25% in Blade School Stock Contest 2nd week.
Business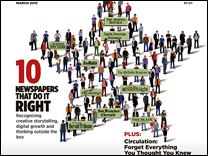 Blade in top 10 that 'do it right'
Magazine's list recognizes innovation of Buckeye1
---
More Business→

---
---
Loading Videos....
Mary Bilyeu
2 for $20: Da Capo Coffee
Search for frugal date spots goes to Temperance.
David Kushma
Ohio should focus on tax fairness
Kasich's tax-cut plan would be a raw deal for most Ohio families.