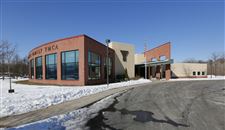 Francis Family YMCA is to be the site of the Bedford Farmer's Market. A special use variance has been obtained.
The Blade
Enlarge | Buy This Image
TEMPERANCE — Having secured the Francis Family YMCA as its location, the Bedford Farmer's Market is looking for vendors and volunteers who can be ready for the May 24 opening.
Anyone interested in becoming either is invited to attend the group's board meeting scheduled for 4:30 p.m. Feb. 25 at the Y, 2000 W. Dean Rd., said Patricia Galdeen, a board member and organizer. Or call her at 734-224-7337.
Supporters have been pushing for a market since early last year, when they made a well-received presentation to the Bedford Township Board.
They see it as an amenity that will improve Bedford's quality of life by stimulating the local economy, encouraging family activities, and allowing shoppers to buy fresh, locally grown produce from area farmers.
"We hope to make it a family-oriented event," Ms. Galdeen said. "We intend to have local vendors, but they will not be limited to Bedford Township. We want to go out 100 miles." She said her nonprofit group wants to sell mostly produce, but other items such as cheese, eggs, honey, and preserves could be offered.
Nonfood items, such as soap, "we're going to take on an individual basis," said Ms. Galdeen, who teaches business at Lourdes University.
The market will be held Saturdays from 8 a.m. to 1 p.m. through Oct. 25.
To use the Y, it needed a special use variance from the township's Board of Zoning Appeals. It was granted unanimously on a unanimous recommendation from the Planning Commission, according to Karen Kincaid, the township's assistant planning coordinator.
The market group's application stated the Y had space for 25 vendors in 10-foot-by-10-foot booths and ample parking. The special use variance must be renewed on a yearly basis, Ms. Kincaid said.
Ms. Galdeen said she expected the vendors' fee to be in the range of $175 to $225 for the full season of 20 Saturdays, with weekly rates available as well. Admission will be free, and food stamps will not be accepted.
She added that vendors who signed up at a meeting planned for April would get a discount.
Organizers last year wanted to locate the market in the parking lot of the township hall, but this plan was stymied by liability and zoning concerns about holding a commercial activity there.
"This actually goes with our mission," Cathy Leonard, the Francis Family Y's executive director, said of the market. "Most members of the Y are health seekers and will realize benefits."
Guidelines: Please keep your comments smart and civil. Don't attack other readers personally, and keep your language decent. Comments that violate these standards, or our privacy statement or visitor's agreement, are subject to being removed and commenters are subject to being banned. To post comments, you must be a registered user on toledoblade.com. To find out more, please visit the FAQ.