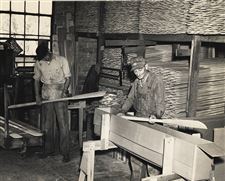 Howard Brodbeck, left, and his father, Otto Brodbeck, pack wooden oars for shipment. Stryker Boat Oar Co. was a booming business during the late 1800s and early 1900s.
STRYKER, Ohio — In the late 1800s and the early 1900s, a booming business in landlocked Stryker definitely had both oars in the water.
Stryker Boat Oar Co., at one time the major employer in this eastern Williams County town, produced wooden oars that propelled watercraft around the world.
Banjo-styled paddles for transportation in Java. Paddles with ribs on both sides for residents of the Dutch East Indies. A square butt oar for boatmen in New York's Finger Lakes area.
In addition to producing oars for the U.S. and British navies, customers included Yale, Harvard, and other colleges whose long curved oars were patterned to perfection for their famed racing crews.
This weekend, details of the boat oar company will be presented as part of a "Treasures from the Depot." The program, presented by the Stryker Area Heritage Council, also will feature details on a famous local artist as well as information about a baggage cart, all described as having important connections to Stryker's history.
Heritage council trustees Bill Priest and Anna Sprow will share details of the oar-making firm during the program at 8:30 a.m. Saturday at the Stryker American Legion, 110 N. Defiance St. On exhibit will be items from the Stryker Area Heritage Center, a former depot. Attendees will learn how the items played important roles in local history.
Howard Brodbeck recalled the hard work at the factory where he worked for several years. "I worked at the oar company quite a few years when I was a kid. Started when I was 16 years old," he said Wednesday.
In later years, Mr. Brodbeck was a teacher — woodworking — for 20 years at what is known today as the Four County Career Center near Archbold.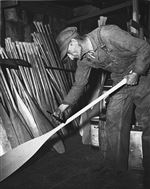 Otto Brodbeck varnishes paddles in this 1949 photo.
His father, Otto, made oars at the factory for many years. Howard was working at the factory when he was drafted into the Armed Forces in 1950. When he returned two years later, the company, then in Archbold in Fulton County, was closing shop.
During its heyday, ash, sassafras, and oak were handcrafted into hundreds of thousands of oars. Sugar pine was used to make paddles, said Mr. Brodbeck, 86, who lives at Devil's Lake in Lenawee County, Michigan.
Mr. Priest said the oar company showed the resourcefulness of the town's early businessmen.
In 1926, another fire hit, this time destroying the building. Plans to rebuild in Stryker were scrapped when a factory building in Archbold became available.
"It was a fascinating place in Stryker, a business supplying the British navy with oars and these famous rowing teams and people who needed oars along the coasts," Mr. Priest said.
The factory, which manufactured about 100 different kinds of oars and paddles, was rather old-fashioned compared to technology-driven factories today. The oar company relied on the heft of the craftsmen who balanced the blades and handles. The human eye was the precision tool in getting blades uniform and even.
Rose Burkholder, president of the Stryker Area Heritage Council, said historical programs such as the one Saturday let "people know what things have come out of Stryker, the good things. That's what we're trying to do, preserve different things from Stryker."
The heritage council works to preserve the past and retain details of the area's history. There is no fee to attend the Saturday program.
The Stryker American Legion will hold a breakfast from 7 to 10 a.m. Saturday that is open to the public. There is a fee for the breakfast.
The heritage center, in a former depot, will be open to the public immediately after the program. The town, 58 miles west of Toledo, has a population of about 1,300 residents.
Contact Janet Romaker at jromaker@theblade.com or 419-724-6006.
Guidelines: Please keep your comments smart and civil. Don't attack other readers personally, and keep your language decent. Comments that violate these standards, or our privacy statement or visitor's agreement, are subject to being removed and commenters are subject to being banned. To post comments, you must be a registered user on toledoblade.com. To find out more, please visit the FAQ.