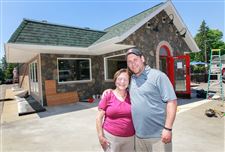 Maddalena Zanger and her son Stefano Zanger, outside of Lena's Italian Restaurant, used some of their first grant award to resurface the front of their restaurant in fieldstone and construct a vestibule.
THE BLADE/LORI KING
Enlarge | Buy This Image
BLISSFIELD, Mich. — The campaign to improve the appearance of Blissfield's downtown continues with the award of four facade grants to businesses by the Blissfield DDA/​Main Street.
"We are so pleased to offer support with these grants," said Patricia Rayl, DDA/​Main Street director. "Their uses will run the whole gamut, from paying for something as simple as fresh paint to a whole new front entrance expansion for one of our restaurants."
The grants require an equal match by the business owner and must be used to improve the establishment's appearance. The biggest grant goes to Lena's Italian Restaurant, 214 E. Adrian St., which will get $13,062 in installments over three years for facade improvements and a vestibule.
Specified work must be finished in a year. Building owners must provide receipts afterward for reimbursement in the amount of their grant.
The other recipients are The Main Street Stable and Tavern, 116 N. Main St., which will receive $2,900 for exterior painting; Deb's Crystal Room and Men's Salon, whose $2,500 award will go to replace old doors, and H.D. Ellis Inn and Spa Bed and Breakfast, which will receive $2,300 for painting and minor brick repair to its historic building.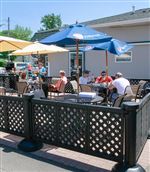 Lena's in Blissfield, Mich., plans to do fresh painting. The restaurant on Adrian Street is the largest grant recipient.
THE BLADE/LORI KING
Enlarge | Buy This Image
The grant money was put to good use at Lena's Italian Restaurant, said manager Stefano Zanger, although the reimbursement has not been received yet and will not cover the entire cost of the improvements.
"This is our first grant award, and we want to take advantage of it as much as possible," he said. "We refaced the whole front of the building in fieldstone. If you could see a before-and-after picture, it's amazing. The curb appeal is awesome."
The new vestibule is 10 feet-by-10 feet and protects diners from a blast of cold air in the winter when the front door opens, Mr. Zanger said. The business also has a new front door, and there are plans for fresh painting.
The facade grants are awarded annually and funded by the DDA/​Main Street's tax increment financing district, a widely used tool for redevelopment that freezes taxes for a period, then directs future increases for use in the TIF district.
In the last 15 years, DDA/​Main Street has awarded $155,000 in grants, money that has leveraged another $400,000 in private and state funds for improvements in Blissfield, Ms. Rayl said.
Contact Carl Ryan at: carlryan@theblade.com or 419-724-6095.
Guidelines: Please keep your comments smart and civil. Don't attack other readers personally, and keep your language decent. Comments that violate these standards, or our privacy statement or visitor's agreement, are subject to being removed and commenters are subject to being banned. To post comments, you must be a registered user on toledoblade.com. To find out more, please visit the FAQ.