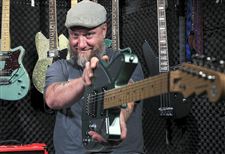 Reverend Guitars owner Ken Haas poses with a Reverend Billy Corgan Signature Model at the store in Sylvania Township.
THE BLADE/CAMERON HART
Enlarge | Buy This Image
The Toledo area has long been known for glass, autos, and building materials. Add electric guitars to that list.
Quietly last December, upstart guitar company Reverend Guitars pulled up stakes from its Livonia, Mich., headquarters and relocated to a 7,500-square-foot combination office, warehouse, and guitar tech center in Sylvania Township.
"We shut down our shipping operations on Dec. 15. And we had the building set up the way we needed it," Reverend Guitars owner Ken Haas said of the company's new operations at 3132 Wilford Dr., off of Central Avenue.
PHOTO GALLERY: Reverend Guitars moves to Sylvania Township
Founded in 1996 by Detroit area guitar designer Joe Naylor, the company had been based in and around suburban Detroit. But in 2010 Mr. Haas, who had been head of sales, and his wife, Penny, bought Reverend Guitars. Last year they realized that all its key people were commuting to Livonia from Toledo, so the couple, who live in Sylvania Township, decided to move nearby when their lease expired.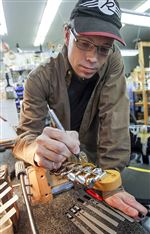 Guitar tech Zack Green of Temperance signs a guitar at Reverend Guitars in Sylvania Township on Tuesday.
THE BLADE/CAMERON HART
Enlarge | Buy This Image
Fender, Gibson, and Martin guitar companies are considered the Big Three of the guitar industry. Below them are the second tier companies, like Reverend, which have dedicated followers and nationally known musicians who prefer their products.
Fred Shuman, owner of Durdel's Music store in Toledo, is one of about 200 dealers who sell Reverend guitars worldwide. Having the company move to Toledo is quite a coup, he said.
"I don't know how it couldn't be. They're very much an original design," Mr. Shuman said.
"They made their reputation on guitars that were not copies of anything else out there," Mr. Shuman said. "I think they're doing a marvelous job."
Under Mr. Haas business model, Reverend Guitars' instruments are made in South Korea by Mirr Music Co. from designs by Mr. Naylor and specifications by Mr. Haas.
Mr. Shuman, of Durdel's, said, "Korea now leads the world in guitars produced."
Each Reverend guitar is pro-level rated. That is, Mr. Haas said, they have a feel and sound that many professionals and recording artists prefer to use as their everyday guitar for studio work or concerts, rather than using an expensive vintage or collectible model worth thousands of dollars.
"We're very popular in Indie rock circles and a lot of very popular artists play our stuff. The guitar player and bass player in Brad Paisley's band use Reverend Guitar," Mr. Haas said. "It doesn't get much more mainstream than that."
The suburban Toledo operation receives about 300 guitars a month. There, the guitars are inspected. "We test every note, level every fret as necessary," Mr. Haas said. "We adjust the neck so that everything is set up to the proper height. We test the electronics, then we polish them so that everything is ready to go.
"At a really big store, they have to pay someone who sets up everything like that. We do it here so that when it leaves here it's ready to go. First impressions are everything in this business."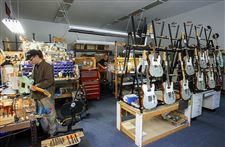 Guitar techs Zack Green and Chris Zielinski work in the guitar workshop at Reverend Guitars in Sylvania.
THE BLADE/CAMERON HART
Enlarge | Buy This Image
Reverend's business model is an instrument a musician will buy for his second or third guitar with prices ranges between $800 and $1,500.
The company relies are a dealership network of independent music stores and last year had annual revenues of $1.75 million.
Although the company is well known among professionals, it isn't as well known by beginners or the casual guitar player, Mr. Haas said.
Contact Jon Chavez at: jchavez@theblade.com or 419-724-6128.
Guidelines: Please keep your comments smart and civil. Don't attack other readers personally, and keep your language decent. Comments that violate these standards, or our privacy statement or visitor's agreement, are subject to being removed and commenters are subject to being banned. To post comments, you must be a registered user on toledoblade.com. To find out more, please visit the FAQ.