Penn National Gaming is trying to prevent problem gambling with a weeklong outreach blitz aimed at educating the public on the signs and dangers of gambling addiction.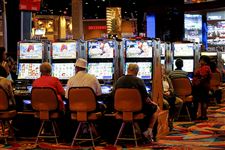 Penn National Gaming, which owns Hollywood Casino Toledo, is hosting a week of events, including a fund-raising run on Saturday, for Responsible Gaming Education Week.
THE BLADE
Enlarge | Buy This Image
"It's important that people realize we want them to come in and play, but we want them to have fun and play responsibly," said Shelley Crossley, a spokesman for the Hollywood Casino Toledo. In Ohio, Penn National owns and operates casinos in Toledo and Columbus and racinos near Dayton and Youngstown.
The company kicked off its Responsible Gaming Education Week with a press conference at the Toledo casino on Monday and has a number of other events planned in and around Toledo, including a "color smash run" on Saturday. The run, which costs $25 per person to register, is a fund-raiser for Unison Behavioral Health Group in Toledo. Last year, about 150 people registered.
Penn National also donated $2,500 to Unison on Monday.
Company officials say some of the warning signs of gambling addiction are a preoccupation with gambling, borrowing money to gamble, withdrawal from family and friends, and a feeling that stopping or cutting back seems impossible to do.
"We train our employees so they know the warning signs so they might be able to suggest to someone who's playing perhaps it might be time to step away in a tactful way," Ms. Crossley said. "We have brochures that are all over the place and the phone number is all over the place to get it out there."
The Ohio Casino Control Commission has a voluntary exclusion program in which people can add themselves to a list that effectively bans them from the state's four casinos for one year, five years, or life. As of June 30, the commission had accepted 2,370 applications. A state report shows 431 were in Lucas County and 72 were in Wood County.
People who think they may have a gambling problem or families of problem gamblers can call the Ohio Problem Gambling Helpline at 1-800-589-9966.
Contact Tyrel Linkhorn at tlinkhorn@theblade.com or 419-724-6134.
Guidelines: Please keep your comments smart and civil. Don't attack other readers personally, and keep your language decent. Comments that violate these standards, or our privacy statement or visitor's agreement, are subject to being removed and commenters are subject to being banned. To post comments, you must be a registered user on toledoblade.com. To find out more, please visit the FAQ.