The contest for Amazon's HQ2 is on and Toledo's bid for the massive, well-paying employer is a $780 million incentive package that includes tax exemptions, the land where Southwyck Shopping Center once stood in South Toledo, and 521 acres in the city of Maumee.
As a way to strengthen the proposal, Toledo officials said they included Maumee, and land around the Shops at Fallen Timbers, in its bid for Amazon to locate a new headquarters in the area.
Toledo has revealed its bid to host an Amazon headquarters, which includes $780 million in incentives.
THE BLADE
Enlarge | Buy This Image
RELATED: City of Toledo's HQ2 proposal | City of Maumee's HQ2 proposal
Amazon's announcement in early September set off a frenzy across the country of cities clamoring to attract its promise of 50,000 new jobs and more than $5 billion in construction.
Toledo officially submitted its bid on Oct. 13, ahead of the 11:59 p.m. Thursday deadline. It released the package to the public at 5 p.m. Thursday.
Big cities like New York, Los Angeles, and Chicago are trying to lure Amazon, but the list includes all of Ohio's major cities — Cincinnati, Cleveland, Columbus, and Dayton — plus places like Pittsburgh, Atlanta, Austin, Baltimore, Boston, Buffalo, Detroit, and Indianapolis. Even small regions such as Lehigh Valley, Pa., and unlikely cities like Gary, Ind., are making a Hail Mary pass for Amazon.
Toledo's package, detailed in a 36-page document, totals $780,190,654 in incentives.
VIDEO: Blade Briefing on Toledo's Amazon bid
The package includes a "Toledo Expansion Incentive" grant for 50 percent of the new municipal income tax for 15 years generated as a result of the jobs and payroll created by Amazon's HQ2 project and a "Municipal Jobs Creation Tax Credit," which would give the company annual, nonrefundable, performance-based tax credits totaling 80 percent of the new income tax.
Toledo also would give Amazon the 58.5-acre former Southwyck site at 2040 South Reynolds Road, which is now called Hawthorne Hills, for the bargain price of $1.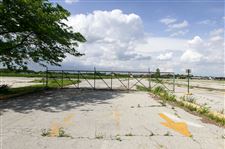 Toledo is offering the site of the former Southwyck Shopping Center, on South Reynolds Road in South Toledo, in a bid to win Amazon's second headquarters.
The Blade
Enlarge | Buy This Image
The site is already a "Community Reinvestment Area" which provides a real property tax exemption on the increase in taxable property value that results from the new construction or renovation of a facility," the city's proposal said.
"This [Community Reinvestment Area] permits a net 100 percent real property tax exemption on the increase in property taxes associated with the company's $5 billion investment in a new corporate headquarter facility for a term of 15 years," it said.
Toledo also promises to make infrastructure improvements.
Another $181,250,000 would come from a "Capital Lease Transaction," the proposal said.
"A capital lease transaction provides bond financing for large construction projects that enables borrowers to take advantage of sales tax savings on building materials," it said. "The Toledo-Lucas County Port Authority's tax-exempt status can be used to help Amazon control the costs of constructing a new headquarters.... Assuming Amazon intends to invest $5 billion it can be assumed that 50 percent, $2.5 billion of that figure is building materials. Therefore, with a sales tax rate of 7.25 percent there is approximately $181,250,000 of sales tax expense that could be saved with a capital lease transaction."
Toledo mayoral candidate Wade Kapszukiewicz in September said city's leaders should attempt to partner with Detroit in a bid to convince Amazon to build its second headquarters in this region. Toledo alone does not meet Amazon's stated requirements — a metropolitan area of more than 1 million people, an advanced mass transit system, and an international airport, he said.
Toledo Mayor Paula Hicks-Hudson's office responded by saying the city was planning its own bid.
Mr. Kapszukiewicz Thursday criticized the city's effort to compete for Amazon.
He said the city's response to a request for proposals fell short because it was done "quietly and alone."
"Toledo may have turned in the paperwork, but it missed another opportunity," Mr. Kapszukiewicz said.
He said it appeared that the city was not even aware that Amazon had issued a call on Sept. 7 for proposals to develop a headquarters campus because the city's response when he brought it up a few weeks later was to say it had been talking to Amazon "for several months" already.
"It was painfully clear the city's economic development team really didn't understand the HQ2 opportunity at all," Mr. Kapszukiewicz said.
Mayor Hicks-Hudson, who is running against Mr. Kapszukiewicz to keep her seat, responded: "One of the tenets of economic development is you're not going to lay out your items so another entity can read it and say 'plus one,'" the mayor said.
City spokesman Carrie Hartman said the city had been attempting — before the HQ2 announcement — to convince Amazon to build a distribution center in Toledo.
Although Toledo officials said their package includes Maumee assets, that city submitted its own proposal that did not include Toledo.
Maumee's bid — submitted Wednesday — highlighted its access to I-75 and the Ohio Turnpike, access to Toledo Express Airport and Detroit Metropolitan-Wayne County Airport, quality of life, and proximity to major colleges and universities.
John Jezak, Maumee's city administrator, said the city's biggest strength is a 500-acre shovel-ready site near the Shops at Fallen Timbers.
"Our pitch is simple," the city's package said. "We are in the center of the U.S., we have a clean 500 plus acre 'turn-key' site, and we believe we are in a position to have HQ2 up and running in the shortest amount of time of all your prospects."
Maumee prepared a 65-page proposal, which they submitted through Jobs Ohio. Included in Maumee's proposal were two promotional videos that included aerial shots of the Fallen Timbers site.
WATCH: Maumee's video proposal for Amazon
Also included in Maumee's proposal were two endorsement letters from ProMedica and the Toledo Regional Chamber of Commerce.
Maumee also offered incentives — a 15-year property tax abatement and tax incremental financing for 30 years.
In addition to featuring some of the regional assets near its site, Maumee's package also cited some characteristics that sets itself apart from Toledo.
"I would be remiss if I didn't mention what Maumee doesn't have: extreme weather, traffic congestion, high taxes, and high crime," the city's package said.
Mr. Jezak said Maumee submitted a separate proposal from Toledo because they wanted to focus solely on the Fallen Timbers site. Toledo's package included two different sites as potential landing spots for Amazon's headquarters, listing the Fallen Timber's site second.
"Our site was going to be secondary to none. We wanted to give our site the best presentation we could," he said.
Staff writer Tom Troy contributed to this report.
Contact Ignazio Messina at: imessina@theblade.com, 419-724-6171, or on Twitter @IgnazioMessina.
Guidelines: Please keep your comments smart and civil. Don't attack other readers personally, and keep your language decent. Comments that violate these standards, or our privacy statement or visitor's agreement, are subject to being removed and commenters are subject to being banned. To post comments, you must be a registered user on toledoblade.com. To find out more, please visit the FAQ.