Doug Keetion arrives just before 9 a.m. every day without fail, flips on the LED lights, surveys his studio salon, and beams with pride.
Soon, the shop will teem with patrons and Mr. Keetion's 19 employees. Hair stylists, nail technicians, a barber, massage therapist, and a boutique are all under one roof. It's a one-stop shop for beauty.
As the owner of Studio 32Nine Salon and Boutique — on Flaire Drive near Dorr Street and Reynolds Road — Mr. Keetion is living his American dream.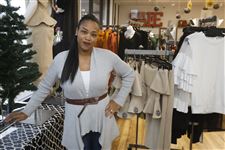 Curtina Keetion and her husband Doug have owned and operated Studio 329 Salon and Boutique for 10 years.
The Blade/Katie Rausch
Enlarge | Buy This Image
"What more could I ask for?" he said. "I love the fact that the more you put in the more you get out."
Mr. Keetion, 49, is among a growing contingent of minority business owners throughout the state and the greater Toledo area.
Now, 118 Minority Business Enterprise certified businesses operate in the northwest Ohio region, a 20 percent increase from three years ago, according to Toledo's Office of Diversity and Inclusion.
MBE companies are those that are at least 51 percent owned by African-Americans, Hispanics, Native Americans, and Asian-Americans.
Multiple entities here have made it a goal to increase this number in recent years. And while success has been realized in many instances, it remains elusive in others. Experts say there has been growth with minority businesses, but there is still work to do.
"From the scope of where we are now compared to the number of minority companies we had years ago, there's been an increase," said Calvin Brown, director of Toledo's Office of Diversity and Inclusion. "But don't get me wrong, we still have some improving to do."
Nationally, minority entrepreneurs are underrepresented compared with their share of the population, but entrepreneurship within minority groups is rising, according to a September, 2016, briefing from the U.S. Small Business Administration.
Despite more minority businesses prospering, the state of minority businesses is a complex issue, one that no single statistic could fully spell out, Mr. Brown said.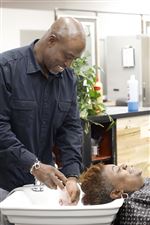 Doug Keetion jokes with Melody Glover as he shampoos her hair Thursday at the salon he and his wife Curtina owned and operate together. Their salon, Studio 329 Salon and Boutique, has been open for 10 years. The business includes a full-service hair salon, including natural hair, barbering, nails, and a women's boutique shop. Studio 329 Salon is located at 1244 Flaire Drive in Toledo.
The Blade/Katie Rausch
Enlarge | Buy This Image
Shanda Gore, associate vice president and founder of the University of Toledo Minority Business Development Center, agreed with Mr. Brown, adding that aspiring minority business owners must overcome some unique hurdles.
"Unlike nonminority businesses we don't have a high percentage of legacy businesses," Ms. Gore said. "We're not inheriting businesses. We don't have many third and fourth-generation business owners."
John Brock, president of Toledo-based Consulting Services Logistics, said part of why he wanted to open his engineering firm was to leave a legacy.
"Yes, there is a need for minority business enterprise firms, but the drive for me to have a firm of my own was my own kids," he said.
In Ohio, state officials have for decades pursued programs intended to promote minority-owned businesses.
In 1980, legislation passed establishing Ohio's MBE program, which mandated 15 percent of government work be set aside for minorities.
Gov. John Kasich, who voted for the bill as a state senator in 1980, has pushed for better performance as a means to strengthen Ohio's economy as a whole.
"Governor Kasich must receive a lot of credit," Ms. Gore said. "He made this a priority of his administration, and it not only benefited minority business but the state as a whole."
UT's Minority Business Development and Minority Business Assistance centers are among many resources in the Toledo area geared at the same broad goal.
"We provide mainly one-on-one business consulting and workshop assistance," said Mark Urrutia, interim MBAC director. "Many times we work with our partners in the community, whether it's helping them with a solid business plan, get access to capital, or introduce them to a banking institution. It's really a community effort."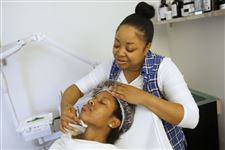 Timiko Kiner applies a cleansing treatment to Hallie Clark.
The Blade/Katie Rausch
Enlarge | Buy This Image
The city of Toledo has contributed to this end too. This year for the first time, city officials have exceeded their goal of awarding 15 percent of all contracts for construction services to minority-owned businesses. That figure was 24 percent midway through 2017. However, the city continues to fall short of a different goal: awarding 10 percent of all goods and services contracts to MBEs.
The increase in monies going to minority businesses is largely attributed to Office of Diversity and Inclusion becoming more aggressive in reaching its targeted goals, Mr. Brown said.
"The growth came about because we started encouraging people to break [up] work and include minority businesses," he said. "It was an internal effort to increase minority participation in larger projects."
For example, if a large construction company was awarded a lucrative construction project, the Office of Diversity and Inclusion would encourage them to break out the sidewalk project for a minority company, Mr. Brown said.
Mr. Brock said his engineering firm has directly benefited from the city's efforts. He said his firm has worked on 10 separate projects, including a multimillion dollar project at Collins Park.
But as the city continues to stimulate minority-business growth, Mr. Brock said businesses should be hired based on the merit of their work.
"We don't want you to hire us because we're a minority business firm," he said. "We want you to hire us because we're good at what we do and we bring value to your project. That's the goal."
Contact Javonte Anderson at janderson@theblade.com, 419-724-6065, or on Twitter @JavonteA.
Guidelines: Please keep your comments smart and civil. Don't attack other readers personally, and keep your language decent. Comments that violate these standards, or our privacy statement or visitor's agreement, are subject to being removed and commenters are subject to being banned. To post comments, you must be a registered user on toledoblade.com. To find out more, please visit the FAQ.