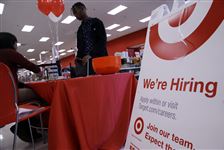 Ohio's minimum wage will increase on Jan. 1 by 15 cents. In Michigan, the jump is even higher.
ASSOCIATED PRESS Enlarge
Ohio's minimum wage, a frequent hot topic for politicians and lobbying groups, will increase on Jan. 1 by 15 cents — a nearly 2 percent increase that raises the state's wage floor to $8.30 an hour.
In Michigan, the jump is even higher. A nearly 4 percent increase of 35 cents that will reset the minimum to $9.25 an hour on Jan. 1.
Ordinarily, one might imagine such news would make unskilled workers break into joyous song and plunge their employers into the depths of despair.
But the reality is that the minimum wage in both states, plus the federal minimum wage, which has been fixed at $7.25 an hour since 2009 due to intransigence by Congress, have become largely inconsequential.
None of the three reflect the new realities of the labor marketplace, which has become a competitive hotbed for even the most unskilled worker, employers and other experts say.
"$8.30 an hour is nice, but good luck finding any businesses paying only the minimum wage," said Bill Wersell, vice president of business development services for the Toledo Regional Chamber of Commerce.
"When it's a tight market, people have to pay more and it's been a tight market for a while now. I don't know how you can find any employees at $7.25 an hour in this market," he said. "Anybody who wants to work already is working and they're making well above that nowadays."
If you want to blame someone for making the minimum wage irrelevant, employers say, blame the nation's largest employer — Walmart.
Sixteen years ago the Bentonville, Ark.-based retailer was known for its wages, and not in a good way. Walmart's average wage in 2001 was $8.23 per hour or $13,861 a year, below the federal poverty line for a family of three.
But the retailer has slowly been increasing its pay scale. In 2016 it raised its minimum from $9 an hour to $10. As of last February its average hourly wage was $13.38 for full-time workers and $10.58 per hour for part-timers.
However, Walmart isn't the only employer above the state and federal minimum wage.
Target Corp., which competes with Walmart for employees boosted its minimum hourly wage to $11 an hour in October. It also said it will raise the rate to $15 by the end of 2020.
According to outplacement firm Challenger, Gray & Christmas, retail employment in November grew 26 percent to 451,600, marking the highest November total since 2012 when 485,400 jobs were added.
While much of that is temporary, many of those jobs will transition to permanent employment after Jan. 1.
In Ohio, the minimum wage, which is adjusted annually based on the cost-of-living index, applies to employees of businesses with annual gross receipts in excess of $297,000. Employees of businesses with receipts below $297,000 can be paid the federal wage.
In Michigan, the state wage applies to any company that employs two or more employees more than 16 years old. Exceptions include minors ages 16-17, who can be paid 85 percent of the minimum wage indefinitely and any employee under 20 years of age who can be paid as little as $4.25 for the first 90 days of employment at any job.
However, most small business owners know they currently have to go well above the minimum wage if they are to get any employees at all.
"I usually have my people starting at $10 an hour for the first 90 days. Then it's $11," said Ray Zammit, owner of Complete Laundering Services, a small business that cleans work gloves and other personal protective equipment for workers in the auto industry.
Mr. Zammit said while he doesn't worry about the minimum wage because his employees make more than it, the state rate can affect businesses through a "domino effect."
"Minimum wage has never really affected us very much but it does set the standard. So if the minimum wage goes up, employers have to start looking at their entry rate," he said.
An increase in the state rate may prompt other employers to raise their rates, and then Mr. Zammit said he might also have to do so to stay competitive.
And even a little jump can have larger consequences, he said.
Recently, he said, he gave each of his workers a $1 an hour raise. That increased his payroll by $25,000.
But it also increased his social security and unemployment contributions.
"That $1 raise added another 20 percent to my expenses," he said. "Don't get me wrong, the kids deserved it and I could afford it, but you see how a small raise can have a large effect."
"Those are some of the things a small business guy has to go through. A large business, like Walmart, they can take the hit. But for small businesses, it's very different," he added.
Jon Steingass, owner of Clean Care Inc. janitorial services, said while the minimum applies statewide, the going rate to hire workers can vary widely.
In Lucas County an employer must pay about $10 an hour to stay competitive, but in Erie County and Williams County, Mr. Steingass said he often must pay $1 to $1.50 more.
"Williams County has a high unemployment rate but it's still harder to find workers there. And these are unskilled labor jobs," he said. "For some reason, wages are higher the further out we go."
Like Mr. Zammit, Mr. Steingass said when the mandated minimum goes up, he must adjust accordingly.
"We do pay above minimum wage in all of our positions but my concern is when the minimum goes up we have to raise our company minimum wage just to stay competitive," he said.
"That's capitalism, I guess. I don't mind paying. I hire good workers and we're happy to do that to pay above the minimum," he said. "But no one ever asks 'Where does the money come from?"
Mr. Steingass said he once wrote the Obama White House and asked what he should do when there was talk of a large hike in the federal minimum wage.
"They wrote me a very nice letter but said I should pass it on to my customers. But you know, customers are looking for ways to cut costs too," he said.
"I see my competitors and most of us are paying slightly to modestly above minimum wage for starting out. But once you get good workers, you pay more if you want to keep them," Mr. Steingass said.
Jennifer Fought, a business development professional at Renhill HRonDemand, a temp staffing service, said $10 an hour was the unofficial minimum in the Toledo area, but that is increasing.
"In our warehousing industrial staffing for light assembly, $10 is really the unofficial minimum that most companies pay, and in fact, that's on the low side," she said.
Dana Corp. is paying $14 an hour. "That's an entry level machine operator. They're going to be dragging the other suppliers into that range soon," Ms. Fought said.
On the retail said, Walmart sets the pace, but Aldi's has become very competitive, she said. "And pick any drive-through in town — McDonald's or Wendy's — they're up there too."
Ms. Fought said Dana's preemptive strike of $14 an hour for an entry level position is pushing its competitors, who had been at $11 to $12, to match it.
"Walmart and Aldi, they can pay a little less because their workers are looking for part-time work and flexible schedules," she said.
However, the key is, Dana, Walmart, Aldi, Meijer, and others are all competing for the same people — dependable workers who can pass a drug test. And when workers have options, wages rise, she said.
"The minimum wage? That is old news. It's the tortoise and the hare — and the hare won," Ms. Fought said.
Contact Blade Business Writer Jon Chavez at jchavez@theblade.com or 419-724-6128.
Guidelines: Please keep your comments smart and civil. Don't attack other readers personally, and keep your language decent. Comments that violate these standards, or our privacy statement or visitor's agreement, are subject to being removed and commenters are subject to being banned. To post comments, you must be a registered user on toledoblade.com. To find out more, please visit the FAQ.