Online shoppers who avoided brick-and-mortar stores this last holiday season might not have noticed retail in the Toledo area is changing.
And it is changing partly because, well, more people are shopping online.
The entrance to the closed Sears store at 3408 W. Central Ave.
THE BLADE/LORI KING
Enlarge | Buy This Image
Vacancies among larger anchor stores in metro Toledo skyrocketed last year, mainly because of store closings by three retailers — The Andersons, Sears, and Kmart.
The overall retail space vacancy rate soared to 14.1 percent at the end of 2017, compared to 10.8 percent at the end of 2016, according to year-end MarketView reports prepared by Toledo commercial real estate firm the Reichle Klein Group.
The 3.3 percent increase in the overall retail vacancy rate is by far the largest one-year jump in the seven years that Reichle Klein has been assessing the market.
But, "people in Toledo shouldn't let this color their perceptions of the vitality of Toledo," said Reichle Klein managing partner Harlan Reichle.
"This isn't a Toledo story. This is a national story and this is a manifestation of that story in the Toledo market. It not a reflection of Toledo as a bad place or one with an economy that is weak," Mr. Reichle said.
"It is a case of the chickens coming home to roost," he said, referring to a local oversupply of retail.
2017 was actually a tale of two retail stories, the Reich Klein report suggests.
In the first story, vacant anchor store retail space ballooned last year to 15 percent from 8.7 percent in 2016. Not surprisingly, that caused the average leasing rate for anchor space to decline to $6.19 a square foot from $6.58 a square foot at mid-year 2017.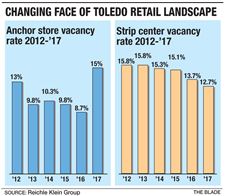 THE BLADE
Enlarge | Buy This Image
Anchor-store closings occurred all across metro Toledo. Closed stores included Best Buy in Perrysburg Township, The Andersons in Maumee and Toledo, Sears in Toledo, Kmart in Toledo, Gander Mountain in Springfield Township, and two Savers stores in Toledo. In addition, towards the end of the year came the announcement of another Kmart closing — in Oregon — that occurred this quarter.
But the second retail story is about filling vacancies and growing demand.
In 2017 demand for space in strip centers was strong among restaurants and food retailers, and businesses providing services, such as hair salons.
The vacancy rate for strip center space shrunk to 12.7 percent from 13.7 percent in 2016. Vacancies for such space had been as high as 15.1 percent just two years ago.
"The real action in the retail market is in the inline-space segment and freestanding sites... A proliferation of restaurant uses dominates demand in strip locations, freestanding, or pad sites," the report states.
Lease rates for strip-center space rose from $9.65 a square foot at the end of 2016 to $10.25 at the end of 2017.
"In my opinion, it keeps going back to what I've talked about before — the changing retail environment. There's a lot of small space absorption, but it's not real retail. Strip centers are become service and food centers," said Sam Zyndorf, a commercial real estate agent with the Toledo office of Signature Associates.
"I think it's an evolution. It's no different than when back in the '90s and 2000s they were building stores like crazy," Mr. Zyndorf said.
"It was overbuilt to start with, and now you have the Internet coming along and if you need copy paper, you just order it, and 10 boxes will be shipped to you," he said.
Stores like Sears, Kmart, and even The Andersons, are in jeopardy as they try to adapt to a new reality where many commodity products are now purchased online and delivered to the home, Mr. Zyndorf said.
"The ones that aren't changing are going to be gone," he added.
Just four months ago Toys R Us filed for Chapter 11 bankruptcy, and last week the company announced last week that it will close 182 stores, though none are in the Toledo area.
The numbers make it clear that more online shopping is having an impact on the retail landscape.
E-commerce accounted for 12.9 percent of all U.S. retail sales in 2017. That was up from 11.7 percent in 2016. By 2022 the figure will jump to 17 percent, according to Forrester Research Inc.
Duke Wheeler, a commercial real estate agent at Reichle Klein said the growth in anchor-store vacancies is not sudden or unexpected.
"It's nothing that just happened in 2017. It's something that has been happening over the years, and in Kmart's case decades," Mr. Wheeler said.
"It's been coming for a while. Read any of the trade publications and they talk about the trend. It's a flushing out of retail that hasn't stayed current with market expectations," he said.
Anita Kramer, senior vice president for Capital Markets & Real Estate at the Urban Land Institute in Washington, said the apparent surge in anchor-store closings isn't really as bad as it seems.
"The transitions actually have been happening for a few decades now. But we're at the point where it's more obvious because a lot of the big names are already gone," Ms. Kramer said. "The last ones that are left make more of an impact on us."
E-commerce is not a huge part of overall retail spending, totaling only about 9 or 10 percent, Ms. Kramer said. But there is little doubt that online shopping is playing a role in changing shopping habits and that consumers are eager for a "nonboring" retail experience, she added.
"There doesn't seem to be as much demand for the number of department stores we have. There are some doing well, but certainly there are some that are not," Ms. Kramer said.
"The stores that have adapted to omni-channels are doing fine. They are using brick-and-mortar and online avenues and they are functioning in all directions," Ms. Kramer said. "They are not being affected by the Internet. They are working with the internet."
But Ms. Kramer said e-commerce is really just forcing the transition to a smaller number of stores that were the result of overbuilding over several decades.
Retail followed the populations to the suburbs and each time the people relocated, retail did too, leaving behind stores built to the specification of the time.
"So we now have a tremendous amount of obsolete space. It's just a visual reminder that we probably were over built," Ms. Kramer said.
The good news, she said, is most of those sites are on good, desirable land and present great opportunities for repurposing those retail sites to other uses besides retail. "These sites are almost like land banks," she added.
In some cases, the building can be reused and expanded; in others the building needs to be torn down, Ms. Kramer said.
"Nobody's using a 1959-era Sears store or a 1962-era Kmart," Mr. Zyndorf said.
"But I'm more positive about the [Toledo] market today than I was a year ago. You're going to see this ongoing evolution. That Sears [on Central Avenue] will be torn down and may end up being retail. But it could end up a hotel, and I could see the back part of the Sears site being nonretail, like housing," Mr. Zyndorf said.
Contact Jon Chavez at jchavez@theblade.com or 419-724-6128.
Guidelines: Please keep your comments smart and civil. Don't attack other readers personally, and keep your language decent. Comments that violate these standards, or our privacy statement or visitor's agreement, are subject to being removed and commenters are subject to being banned. To post comments, you must be a registered user on toledoblade.com. To find out more, please visit the FAQ.