Area chambers of commerce are responding to a wave of sexual-harassment claims involving businesses nationwide by offering informational sessions about the issue to their members.
"Right now, workplace harassment is definitely a timely topic," said Stacey Mallett, vice president of marketing and communications for the Toledo Regional Chamber of Commerce. "We try to always be on the lookout for those topics that our members and local businesses need to be aware of and learn more about."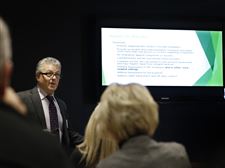 Attorney James Yates of Eastman & Smith delivers the presentation 'Workplace Harassment in the #MeToo Era,' during the Toledo Chamber of Commerce's monthly Chamber U session.
The Blade/Andy Morrison
Enlarge | Buy This Image
The Toledo chamber on Thursday hosted a presentation by attorney James Yates of Eastman & Smith titled "Workplace Harassment in the #MeToo Era." The event was one of the organization's monthly Chamber U series.
Ms. Mallett said the discussion was an overview of what harassment is, applicable laws, as well as the types of policies, procedures, and training employers should have in place.
Harassment can not only be very costly if a case goes to court, but can dramatically affect several other areas of business, she said. A damaged reputation can have potentially devastating effects.
"It could be very detrimental," Ms. Mallett said. "It could affect their customer base. It could affect their ability to retain qualified employees."
The Bowling Green Chamber of Commerce, in conjunction with The Employer's Association of Maumee, will present a webinar on harassment Feb. 28 titled "Let's Talk About Sexual Harassment, Baby! Moving Beyond Compliance to Creating a Culture of Respect and Civility in the Workplace." Earlene Kilpatrick, executive director, said the timeliness of the issue prompted the selection of the topic.
"We look at topics that are timely and look for experts in the field to come and present or have a webinar," she said. "It's so timely and relevant in this day and age."
The webinar will address business culture in addition to policies and training. The session should provide businesses with some tools to help address harassment before it becomes an issue, like how to recognize it and avoid "complicit silence," Mrs. Kilpatrick said.
"We find that many in our membership [have] less than 50 employees, and may not be able to have their own [human resources] department," she said. "We hope this will enlighten them to some of the minimum things they should be aware of and some of the things they should put into practice."
The webinar is free, but reservations are required by Feb. 26. Contact Marissa Muniz with the chamber at MarissaMuniz@bgchamber.net or by calling 419-353-7945.
Contact Alexandra Mester at: amester@theblade.com, 419-724-6066, or on Twitter @AlexMesterBlade.
Guidelines: Please keep your comments smart and civil. Don't attack other readers personally, and keep your language decent. Comments that violate these standards, or our privacy statement or visitor's agreement, are subject to being removed and commenters are subject to being banned. To post comments, you must be a registered user on toledoblade.com. To find out more, please visit the FAQ.