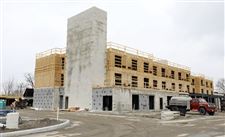 Construction continues on an 111-room Marriott Residence Inn and a 111-room Courtyard by Marriott, both at 3536 Secor Rd.
THE BLADE/JEREMY WADSWORTH
Enlarge | Buy This Image
UNDER CONSTRUCTION
Construction moves along rapidly on an 111-room Marriott Residence Inn and a 111-room Courtyard by Marriott, both at 3536 Secor Rd. on property that used to house the former Ramada Toledo Hotel and Conference Center, which was demolished last year. The two hotels, which are side by side with the Residence Inn next to I-475 and the Courtyard just to its south, are part of a four-hotel pod developed by Key Hotel and Property Management Inc. Key also developed two adjacent Holiday Inn Express and Hampton Inn hotels just to the south of the new construction. When the Marriott hotels are completed, all four hotels will be connected by a service road and have access to two new restaurants, Texas Road House and Bubba's 33.
ACHIEVEMENTS
■ Toledo-based real estate firm Danberry Co. has sold a minority interest in the firm to three executives — Chief Operating Officer Kevin Warren, Maggie Fawcett, and Dan McQuillen — as part of an eight-year ownership transition plan.
■ Toledo real-estate investment trust Welltower Inc. has hired Keith Konkoli as senior vice president, real estate services, succeeding Mike Noto, who is retiring.
■ Toledo architectural, engineering, and planning firm Bergmann has named Steven Johnson as principal for its new Client Management Services and Matt Pastula as an architect and senior project manager.
■ Richard A. Unverferth, co-founder of Unverferth Manufacturing Co. in Kalida, Ohio, has been inducted posthumously into the Putnam County Ag Hall of Fame.
Business Achievements, with news of management promotions, corporate board appointments, and awards, runs each week. Send announcements by email to business@theblade.com or by fax to 419-724-6147. Write "Business Achievements" in the message field.
CALENDAR
■ The Glass City Toastmasters Club's regular meeting is 5:30 p.m. Tuesday at the United Way Building, 424 Jackson St., downtown. Free and open to the public. For information, go online to glasscity.toastmastersclubs.org.
■ Employee retention is the topic of this month's Small Business Management Series of the Business Council of the Bowling Green Chamber of Commerce, slated for 8 a.m. Thursday at Four Corners Center, 130 S. Main St., Bowling Green. Presenter: Bob Bethel of the Employers' Association. Cost: free. Reservations required by Wednesday by calling 419-353-7945 or emailing MarissaMuniz@bgchamber.net.
■ The Toledo Club Toastmasters will meet at 7 a.m. Friday on the fifth floor of the Toledo Club at 14th Street and Madison Avenue, downtown. Free. For more information, go online to toledoclub.toastmastersclubs.org.
Notice of business meetings must be received by The Blade 10 days before the event. Email items to business@theblade.com or fax to 419-724-6147. Write "Business Calendar" in the message field.
CONVENTIONS
Listings include organizations, headquarters, and number of attendees expected as estimated by Destination Toledo:
■ Friday-Saturday — Bowling Green Soccer Challenge, various properties/​Bowing Green State University, 10,000, regional.
■ Friday-Sunday — Forty Frame Game Bowling Tournament, various properties/​Bowlero Lanes, 150, regional.
■ Saturday-Sunday — Maritime Archaeological Survey Team Workshop, Maumee Bay Lodge & Conference Center, 75, regional.
TRANSITIONS
■ The Stacked Deck gaming store will have its grand opening ceremony at 4 pm. Tuesday at 188 S. Main St., Suite 2, Bowling Green.
Business Transitions, which include business moves and openings, should be sent by email to business@theblade.com or by fax to 419-724-6147. Write "Business Transitions" in the message field.
PATENTS
The following U.S. Patents were granted to inventors in Lucas, Fulton, Wood, Lenawee, and Monroe counties and published in the Official Gazette of the Patent and Trademark Office during February, 2018. For more information call the Toledo-Lucas County Public Library, Business Technology Department at 419-259-5209.
#9,889,739: Universal combination meters. Assigned to: Toyota Motor Engineering & Manufacturing North America Inc., Erlanger, Ky. Nathaniel J. Secord, Toledo.
#9,890,072: Glass precursor gel. Assigned to: Owens-Brockway Glass Container Inc., Perrysburg. Scott P. Cooper and Scott Weil, Maumee; Michael P. Remington, Toledo; Tilak Gullinkala, Perrysburg, and Sutapa Bhaduri, Holland, Ohio.
#9,890,808: Telescoping propshaft. Assigned to: American Axle & Manufacturing Inc., Detroit. Dawhorng Dennis Wang, Perrysburg.
#9,901,262: Mobile transducer holder assembly. Assigned to: ProMedica Health System Inc., Toledo. Lee Hammerling, Toledo.
#9,901,460: Minimally invasive collapsible cage. Assigned to: University of Toledo. Vijay K. Goe and Aaron Matyas, Toledo.
#9,896,369: Glass sheet forming and annealing providing edge-stress control. Assigned to: Glasstech Inc., Perrysburg. Terry A. Bennett, Northwood.
Guidelines: Please keep your comments smart and civil. Don't attack other readers personally, and keep your language decent. Comments that violate these standards, or our privacy statement or visitor's agreement, are subject to being removed and commenters are subject to being banned. To post comments, you must be a registered user on toledoblade.com. To find out more, please visit the FAQ.