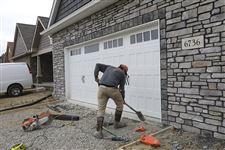 Troy Ferguson, of Barker Built, working on the Villas at Summerlyn in Lambertville, Michigan.
THE BLADE/JETTA FRASER
Enlarge | Buy This Image
UNDER CONSTRUCTION
Crews put the finishing touches on homes in the Villas at Summerlyn Lakes, a subdivision in Lambertville on Smith Road, west of Secor. Developed by builder Scott Bollin in 2008, the Villas at Summerlyn Lakes is a 103-lot project that completed its 40-home first phase, is finishing up its second phase, and has begun selling lots in its third. Villas feature two or three-bedroom condos of 1,500 to 1,800 square feet and cost between $205,000 and $295,000. A companion piece nearby, the Reserve at Summerlyn, features single-family homes.
ACHIEVEMENTS
■ Brian Valentine has been named senior vice president and chief financial officer, effective Aug. 1, at The Andersons Inc. of Monclova Township.
■ The Lathrop Co., a Toledo construction contractor, has announced these promotions: Tim Meyer to vice president, Joe Cleveland to project executive, and Allen Ziemkiewicz to manager of Special Projects Division.
Business Achievements, with news of management promotions, corporate board appointments, and awards, runs each week. Send announcements by email to business@theblade.com or send items by fax to 419-724-6147. Write "Business Achievements" in the message field.
CALENDAR
■ The Trendsetters Toastmasters Club will have its meeting at 6:30 p.m. Monday at Reynolds Corner Library on Dorr Street, meeting room No. 2. Open to public and free.
■ The Wood County Safety Council holds its monthly meeting at 7:30 a.m. Tuesday at the Wood County Hospital Bachman-Keil Meeting Rooms, 950 W. Wooster St., Bowling Green. Topic is "Continuity of Operations Planning." Speaker is Bradley Gilbert, Wood County Emergency Management Agency. If interested in joining the council, call 419-353-7945 or email Sandy Kerr at SafetyCouncil@BGChamber.net.
■ The Real Estate Investors Association meets at 6:30 p.m. Tuesday at the Knights of Columbus, 4256 Secor Rd. Open to the public and free.
■ The Toledo Club Toastmasters will meet at 7 a.m. Friday on the fifth floor of the Toledo Club at 14th Street and Madison Avenue, downtown Toledo. Open to the public and free. For more information, go online to toledoclub.toastmastersclubs.org.
Notice of business meetings must be received by The Blade 10 days before the event. Email items to business@theblade.com or fax them to 419-724-6147. Write "Business Calendar" in the message field.
CONVENTIONS
Listings include organizations, headquarters, and number of attendees expected as estimated by Destination Toledo:
■ Tuesday-Thursday — American Chemical Society Central Regional Meeting, Renaissance Toledo/​Park Inn by Radisson/​SeaGate Convention Centre, 700, regional.
■ Thursday-Sunday — Edward Jones Sales Conference, Maumee Bay Lodge, 50, regional.
■ Friday-Sunday — American Hellenic Educational Progressive Association, Park Inn by Radisson, 75, regional.
■ Friday-Sunday — Fast Wizards Softball Farley Memorial Tournament, various properties, 1,800, regional.
Guidelines: Please keep your comments smart and civil. Don't attack other readers personally, and keep your language decent. Comments that violate these standards, or our privacy statement or visitor's agreement, are subject to being removed and commenters are subject to being banned. To post comments, you must be a registered user on toledoblade.com. To find out more, please visit the FAQ.