John Mancy remembers how it used to be 15 years ago in West Toledo when University of Toledo fans would gather at Arnie's Eating & Drinking Saloon or the Oak'en Bucket for a quick bite or some drinks on the day of a big football or basketball game.
Mr. Mancy, part of the area's Mancy family of restaurateurs, thinks West Toledo residents miss those gathering spots — and he's putting money on the line to prove it.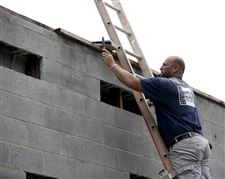 Brandon Mayes, a brick mason with Harper Masonry, gets ready to place a brick at the former Schorling's Market building in Toledo.
THE BLADE/KURT STEISS
Enlarge | Buy This Image
Eleven months ago he bought the former Schorling's 5-Star Market at 3115 Bancroft St. adjacent to the university. He said this week he is converting that building into a 5,000-square-foot neighborhood restaurant and sports bar. Construction started this month.
A name has not been chosen, but plans call for the business to open by October, provided construction along Bancroft cooperates, said Mr. Mancy, general manager of the popular Mancy's Bluewater Grille in Maumee.
"We have not submitted final drawings yet, but we will be ready to go soon. I've been in contact with the Toledo city road department and the engineering department," Mr. Mancy said. He is doing the project with his wife, Gabrielle, rather than his brothers or cousin who own and operate five Toledo area restaurants.
"Gabrielle is actually the lead on this. She's the general manager and president and my partner on this," Mr. Mancy said.
When he bought Schorling's in August for $195,000, Mr. Mancy said it could become a market, coffee shop, or a restaurant.
But Mrs. Mancy, who is from the Atlantic City, N.J., area, suggested the university lacked a neighborhood bar like the ones where she grew up. Those establishments served pizza, hoagies, and beer and were local gathering places, Mr. Mancy said.
Though a menu hasn't been finalized, the restaurateur said the couple is leaning toward pizzas and hoagies. They already have purchased 14 large-screen TVs for the site and will add a special sound system. They have been aided by university officials eager to have a sports bar for students and Old Orchard neighborhood and Ottawa Hills residents.
Seven years ago the university thought it had its gathering spot with Gradkowski's, a restaurant in the Secor Road Gateway Project operated by former Rocket quarterback Bruce Gradkowski. But the formal restaurant later became a casual gastropub, Social. It closed last month and has not reopened.
Mr. Mancy said he doesn't know what challenges Gradkowski's faced, but the Schorling's project has one immediate advantage. "My costs are going to be lower than the Gateway project because it's not a new building. I've been very conscious about costs," he said.
The university owns the building's parking lot and will resurface it starting in July.
"I think West Toledo sorely needs that place near the university where people would want to hang out, have a few beers, have a few drinks, eat something nice. ... I'm looking for a place for students to bring their parents, a nice casual place.
"I'm don't know if I'm going to pull it off, but that would be both my and Gabrielle's dream to do so," he added.
Contact Jon Chavez at: jchavez@theblade.com or 419-724-6128.
Guidelines: Please keep your comments smart and civil. Don't attack other readers personally, and keep your language decent. Comments that violate these standards, or our privacy statement or visitor's agreement, are subject to being removed and commenters are subject to being banned. To post comments, you must be a registered user on toledoblade.com. To find out more, please visit the FAQ.