CINCINNATI — Mercy Health President and CEO John M. Starcher, Jr., will take on the same role for the soon-to-be-merged Bon Secours Mercy Health, officials for the systems announced this week.
After the merger is completed this fall Rich Statuto, president and CEO of the Maryland-based Bon Secours Health System, will stay on as an adviser for strategic growth and innovation and will retire in 2019, according to a statement announcing the moves. Mr. Starcher was named to the top job at Cincinnati-based Mercy Health in 2016 after 13 years with the system.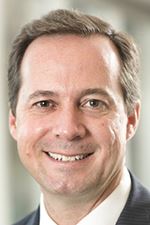 John Starcher, current president of Mercy Health, will lead the soon-to-be merged Bon Secours Mercy Health system.
FILE/NOT BLADE PHOTO Enlarge
Mr. Starcher is a graduate of Bowling Green State University and the University of Toledo College of Law.
RELATED: Mercy Health to merge with Bon Secours Health System
The merged system will be officially called Bon Secours Mercy Health, though individual facilities will retain their respective names to preserve community familiarity. A combined board of directors will be led by Chris Allen, chair of the Bon Secours board. Mercy Health board chair Katherine W. Vestal will be vice chair.
Guidelines: Please keep your comments smart and civil. Don't attack other readers personally, and keep your language decent. Comments that violate these standards, or our privacy statement or visitor's agreement, are subject to being removed and commenters are subject to being banned. To post comments, you must be a registered user on toledoblade.com. To find out more, please visit the FAQ.