DeWine touts job plan at Maumee plant
8/20/2018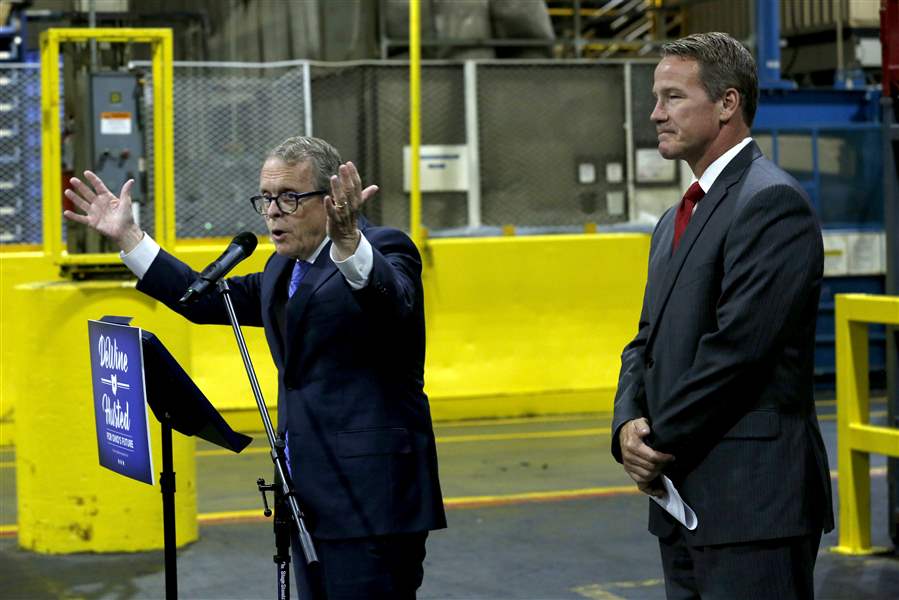 Ohio Attorney General Mike DeWine, left, and Secretary of State Jon Husted talk about workforce and job initiatives during a campaign stop at the Maumee Assembly and Stamping Plant in Maumee on Monday.
THE BLADE/LORI KING
Buy This Image
Republican gubernatorial candidate Mike DeWine and his running mate Jon Husted brought their work-force development tour to northwest Ohio on Monday, pitching a plan for less government regulation, more private investment, and vocational job training at an auto parts plant in Maumee.
The pair chose Maumee Assembly and Stamping, in a former Ford Motor Co. stamping plant that once employed more than 1,200 workers, for the regional unveiling of their Ohio Prosperity Plan.
Despite closing around the time of the recession, a company executive said the plant has rebounded, employing more than 300 workers.
"We've come a long way in a short time over the past 10 years," operations vice president Travis Barta said. "Some of us have forgotten the importance of manufacturing in the U.S. and Ohio. I can probably speak for everyone here at [Maumee Assembly and Stamping] when I say that we are proud of what we do and we will work hard to ensure that jobs stay here in northwest Ohio."
Mr. DeWine, the state attorney general, said he hopes to build on the economic growth already set into motion by Ohio Republicans, a nod to term-limited Gov. John Kasich, whom he's running to succeed. Democratic supporters of his opponent, Richard Cordray, held a separate news conference with union advocates touting Mr. Cordray's plan and criticizing Mr. DeWine and what they view as his allegiance to business interests.
"Ohio has certainly come a long way in the last eight years under Republican leadership, but our goal is to take us even further," Mr. DeWine told a group of 100 gathered at the plant.
To address a statewide skills gap, the DeWine-Husted plan calls for regional job-training programs and funding of 10,000 skills certificates annually for in-demand jobs. At Ohio universities, Mr. DeWine wants researchers to be able to own the intellectual property they create.
The plan also calls for the creation of Opportunity Zones that would give investors a temporary break on capital gains tax for bringing jobs to economically distressed communities. Mr. DeWine also wants the governor to be able to suspend government regulations seen as adversely impacting job creation.
With state unemployment hovering at about 4 percent, the Ohio Prosperity Plan would "get a good paying job for every Ohioan and a better job if they already have one," Mr. DeWine said.
"In 2010, we didn't have enough jobs. In 2018, our state's challenge is filling all the jobs that have been created," he said.
The job board Ohio Means Jobs has 142,000 positions listed and more than 75,000 of those pay $50,000 or more a year, more than the median income for a family of four in Ohio, said Mr. Husted, Ohio's secretary of state.
"The policies that have been put into place have moved Ohio from a bad place to do business to a good place to do business," he said. "We don't want to go back to the old days."
Union advocates blasted Mr. DeWine and the Maumee plant, which isn't a union shop. They noted that last year the plant was fined more than $200,000 by federal regulators for 10 workplace safety violations, two of which led to employee injuries.
"The workers at Maumee Assembly and Stamping would be well served by a union that would give them a voice on matters related to workplace safety. Instead, they get Mike DeWine and his continued silent assault on our collective bargaining rights," said Mike Gillis, Ohio AFL-CIO spokesman.
When asked whether as governor he would veto right-to-work legislation, which unions argue weakens their presence in union shops by not requiring employees to join or pay dues, Mr. DeWine didn't stray from his previous statements on the matter.
"We're not doing right-to-work," he told reporters. "We have good labor relations in the state of Ohio. We don't want to get into that morass."
The Ohio Democratic Party held a separate news conference about the Cordray-Sutton jobs plan, which the pair toured the state two weeks ago promoting. Both plans focus on skills training to address the work-force shortage, while Mr. DeWine goes a step further by calling for veto power over regulations.
"Betty Sutton and Richard Cordray have a track record of promoting good paying, middle-class jobs," said Ray Wood, vice president of the Toledo Area UAW CAP Council. "I would hate to think where this community would be without their support."
Contact Liz Skalka at lskalka@theblade.com, 419-724-6199, or on Twitter @lizskalka.